In Until Due Time, Everything Is Else, Pan Daijing crafts an evocative exploration of temporality, memory, and presence. Through an interplay of video, traces of performance, site-specific interventions, and sound, the exhibition delves into the impermanent and fleeting dimensions that shape her understanding of performance — a perception that might parallel existence itself.
Pan Daijing's work typically thrives in the realm of the live, manifesting itself through durational performative situations, inhabited installations, concerts, and other intimate encounters with audiences. Until Due Time, Everything Is Else introduces a counterpoint: all elements of liveness are stripped away. Instead of witnessing the dynamism of bodies in space or the throbbing pulse of live sound, visitors encounter only the echoes of such occurrences. Suggestions of presence are enveloped, hinted at, or harnessed by the exhibited works, and imbued with the vitality of what once was or what is to come.
Until Due Time, Everything Is Else gathers works of an ambiguous nature, as they mark the presence of something else, something that is not-here and not-now. They stand as materials crafted in moments of anticipation, as remnants from those very animate experiences, or as bearers of the procedural and intuitive displacements that happen when moving from one medium to another.
Reaching beyond the registers of performance documentation, these works are containers imprinted by transformative moments, and so embody or forecast change. As such, the exhibition directly confronts the paradox of the trace, which suggests that in attempting to capture or preserve an instance, one inadvertently alters or distorts its origins. Daijing's pieces are a meditation on this paradox, emphasizing that traces, whether in memory or art or life, are both revealing and concealing, capturing both past and future whilst simultaneously eluding complete comprehension. 
Until Due Time, Everything Is Else is complemented by a publication of the same name, which extends Pan Daijing's exhibited multi-channel video installation to paper. It is edited by Tom Engels and designed by Julie Peeters.
Until Due Time, Everything Is Else is Pan Daijing's first institutional exhibition in Austria and is curated by Tom Engels. 
Pan Daijing (b. 1991, Guiyang, lives in Berlin) has shown her work internationally at the 14th Gwangju Biennale (2023); the Louvre, Paris (2023); Tai Kwun Contemporary, Hong Kong (2021); the 13th Shanghai Biennale (2021); Martin Gropius Bau, Berlin (2020); Tate Modern, London (2019); and the Biennale of Moving Image, Geneva (2018), among others. In 2024, Pan Daijing will present a solo exhibition at Haus der Kunst in Munich and, as the recipient of the Preis der Nationalgalerie, will exhibit at Hamburger Bahnhof in Berlin. She has performed at numerous venues and festivals including the Barbican Centre, London; Kraftwerk, Berlin; Elbphilharmonie, Hamburg; Berghain, Berlin; Sonar Festival, Barcelona; Haus der Kulturen der Welt, Berlin; and the National Pantheon, Lisbon. She has released three full-length albums: Tissues (2022), Jade (2021), and Lack (2017).
The exhibition is supported by ifa—Institut für Auslandsbeziehungen and is a cooperation in the context of steirischer herbst '23.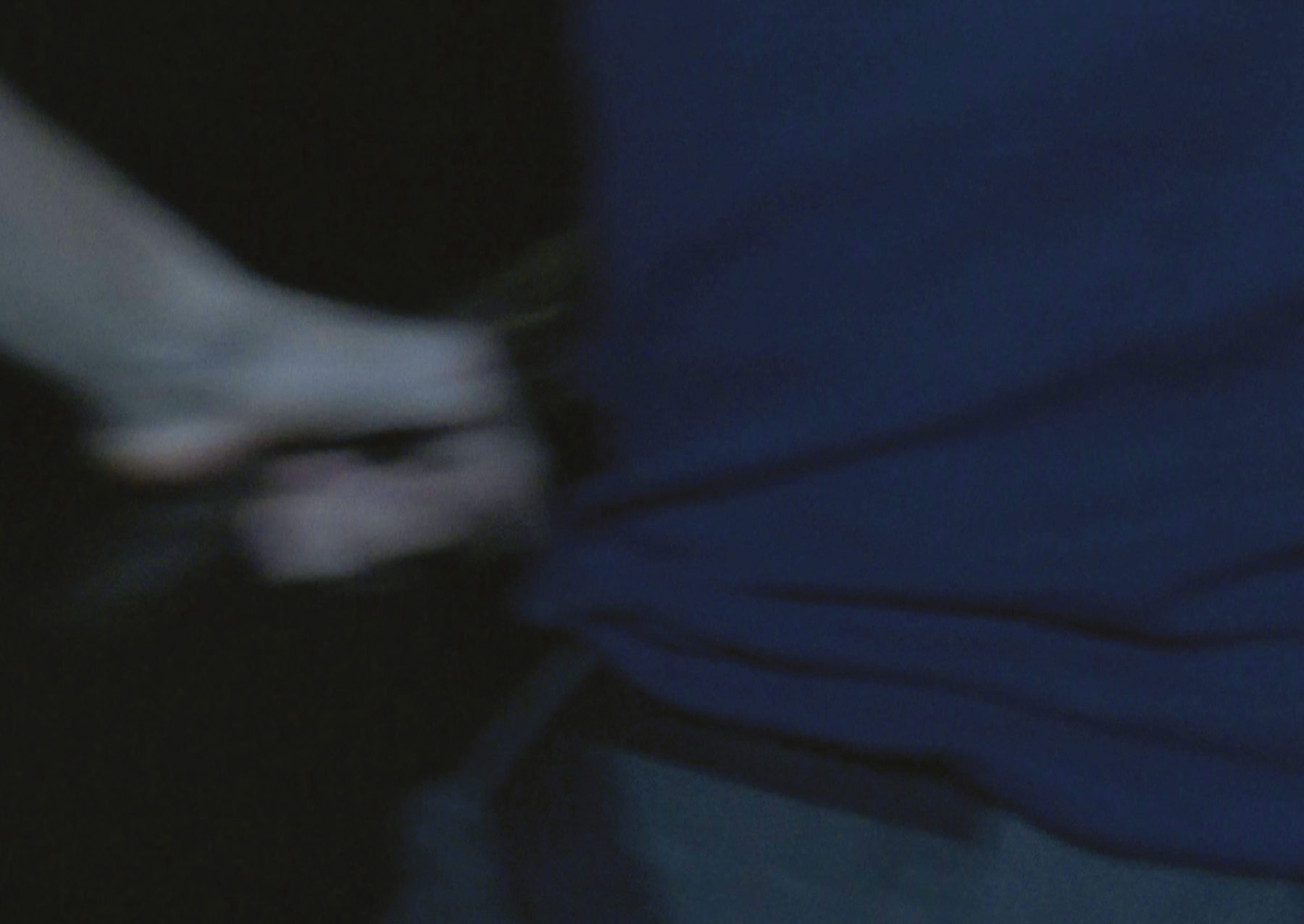 If green is elemental, terrestrial, fundamentally of the earth—sharp blade of the palm, soft chorus of the grass, superabundance—it is also thoroughly modern. Green screen, chroma key, green as a ghost. Neon, billboard, bleeding light. What green did she see?
Colorless Green Freedoms Sleep Furiously (2023) is a newly commissioned video essay and installation by the Bosnian-Dutch artist Miloš Trakilović that explores visibility and freedom in the digital age through the lens of his family history. The work is rooted in the account of his mother, Milijana Mendeš, who survived the atrocities of the Bosnian War and fled to the Netherlands with her two children in 1995. In 2018, Trakilović conducted an extensive interview with her about her experiences from the Bosnian War. In this conversation, she vividly recalls some of her first moments once outside of the war zone: "When I arrived in The Netherlands as a refugee, the first thing I remember doing was sitting in a park for hours. I could not stop staring at the grass. It was so lush and green. I've seen grass many times in my life before, but I've never again seen it so bright. I remember sitting there and thinking; this grass here is so green, it is free, and in that moment, I felt free too. I felt liberated from my past."
Twenty-eight years after their arrival, Colorless Green Freedoms Sleep Furiously embodies Trakilović's speculative quest to make his mother see that same shade of green once more. Trakilović entwines her heartfelt triangulation between green, grass, and freedom with the coded and simulative nature of digital technologies in which green plays an imperative role, such as the green screen or chroma key, and computer-generated imagery. Filmed in the Netherlands and Bosnia and Herzegovina, and oscillating between simulated and "real" landscapes, Colorless Green Freedoms Sleep Furiously unfolds as an inquisitive and poetic dream sequence that challenges the hegemonic role of vision and truth in the narratives of war and visual culture at large. Here, Trakilović invokes the invisible, unrelenting spectral forces that constitute the experience and memory of war and its aftermath.
Colorless Green Freedoms Sleep Furiously will be presented alongside All But War Is Simulation (2020), a two-channel video installation that explores representations of violence and the visualization and mediatization of warfare in an age of digital expansion. Blending historical record with speculation and theory, it takes as its starting point an artifact from the Bosnian War: a soon-to-be refugee's Post-It note detailing a list of possessions to be taken before the family's eviction. All of the items are related in some way to the preservation of memory—highlighting both the longing for an ideal past and a boundedness to the everyday experiences of war, where survival becomes routine and one's life is reduced to a few simple objects. Neither an image nor a poem, the yellow record speaks to the multiple dimensions of loss associated with the experience of war and displacement.
Colorless Green Freedoms Sleep Furiously is accompanied by a publication of the same name, with contributions by Edwin Nasr, Jelena Petrović, and Miloš Trakilović. It is edited by Tom Engels and designed by Julie Peeters.
Miloš Trakilović (b. 1989, SFR Yugoslavia, now Bosnia and Herzegovina) is an artist based in Amsterdam and Berlin. Recent exhibitions include All But War Is Simulation, Kunstfort bij Vijfhuizen (2021), and Callie's in collaboration with FRAGILE, Berlin (2020); Things we sense about each other, Badischer Kunstverein, Karlsruhe (2021); ISKRA DELTA: MGLC 34th Ljubljana Biennale of Graphic Arts (2021); Perception of Contemporaneity, Danube Dialogues, Novi Sad (2019); Farocki Now: A Temporary Academy, Harun Farocki Institut, Berlin (2017); and The Clouds is Where We Want To Be, Künstlerhaus Bethanien, Berlin (2017), among others. MISSION ACCOMPLISHED: BELANCIEGE (2019), a video installation developed in collaboration with Hito Steyerl and Giorgi Gago Gagoshidze was presented at Trafó Gallery, Budapest (2023), MMCA (National Museum of Modern and Contemporary Art), Seoul (2022), MUNCH Triennale, Oslo (2022), Stedelijk Museum, Amsterdam (2022), Centre Pompidou, Paris (2021), K21 Kunstsammlung Nordrhein-Westfalen, Düsseldorf (2020), Kunsthalle Wien, Vienna (2020), and Neuer Berliner Kunstverein, Berlin (2019). Colorless Green Freedoms Sleep Furiously is his first institutional solo presentation in Austria.

Colorless Green Freedoms Sleep Furiously is commissioned by Grazer Kunstverein and realized with the generous support of the Mondriaan Fund, Dommering Foundation, and Rijksakademie van Beeldende Kunsten. The exhibition is supported by ifa – Institut für Auslandsbeziehungen and Stichting Stokroos.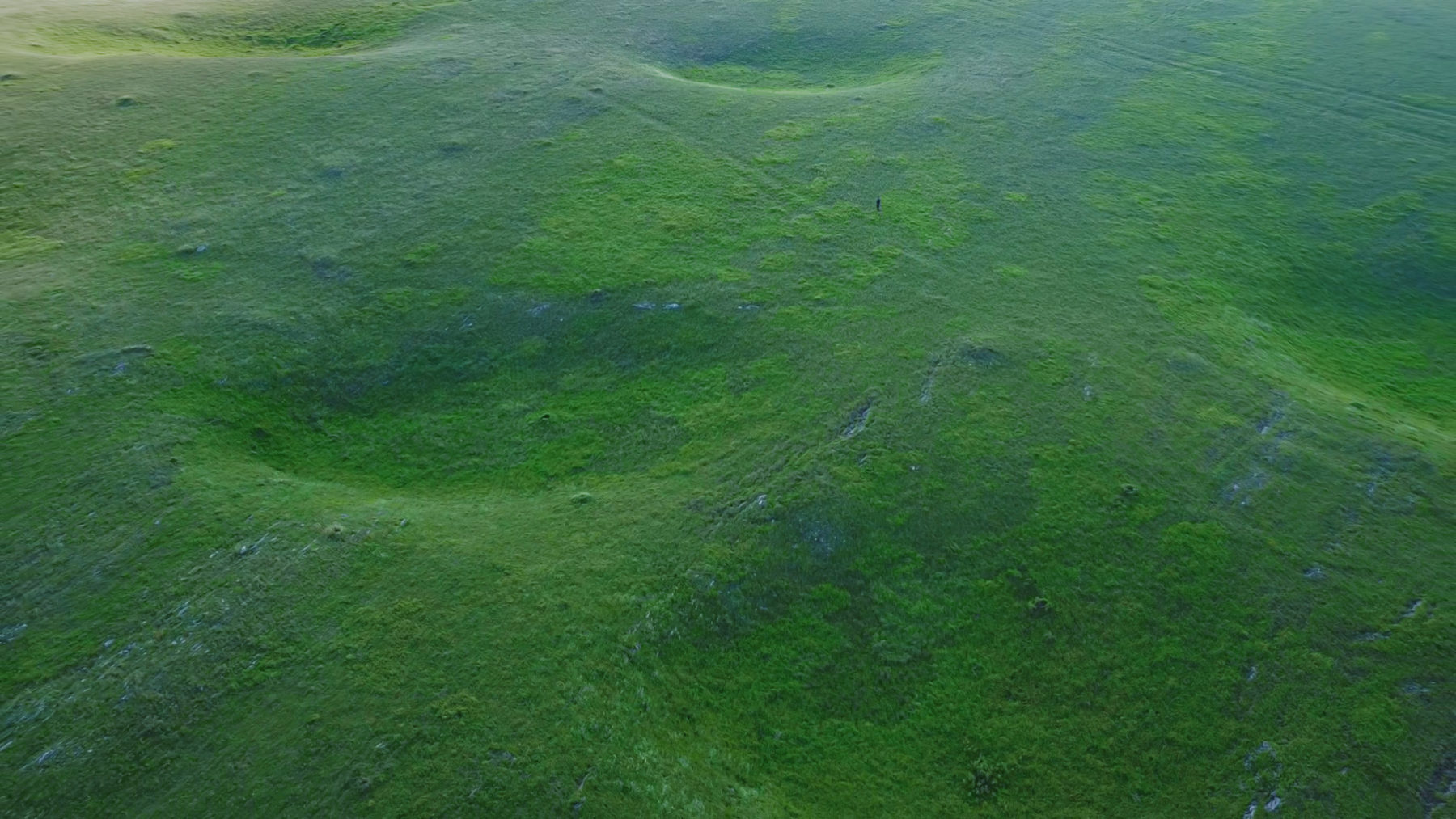 sekretas (Lithuanian for secret) is an exhibition by Marija Olšauskaitė that peers into her long-standing affinity with the glares of glass. It focuses on a particular facet of her work that is attentive to the ways in which sculptural practice and the social lean into one another.
sekretas assembles suspended surfaces to look through, resting vessels to hold, vividly colored benches to carry, a vitreous pond, hand-blown tableware, reproductions of flowers in so far as the logic of glass permits, words jotted in notebooks, plants picked in Uzbekistan, and the company of friends and neighbors to keep.
sekretas borrows its name from an urban leisure activity practiced by youngsters in Lithuania and many other countries that were part of the former Soviet Union. Zestfully, children would enter a courtyard and place small objects under a pane or a found shard of glass: flower petals, golden bottle caps, shells, beautiful rubbish, and other idiosyncratic elements to be organized and composed into material expressions of friendship. The glass would then be covered with soil or dust, as a sekretas recedes from view. A fortunate passer-by or friend on the lookout might then find these secrets, these minute compositions of mundane, seemingly nonsensical elements, which would carry the greatest meaning for those who knew.
sekretas looks into that joint where sculpture, composition, and the making of social bonds revel in each other's presence. Here, glass takes on a distinct role. It frames and shelters composition and friendship, both concretely and symbolically, while simultaneously prefiguring their fragility and potential shattering.
sekretas presents works that are imbued with a whimsical and slippery attitude toward the fixity of sculpture. They quiver between traditions of craft and ornament, the social role of sculpture, and the ways in which objects populate daily lives and customs. At the same time, Olšauskaitė's pieces also harbor the idiosyncrasies of cryptic abstraction and enigmatic composition. Throughout her work resounds the tradition of stained-glass production, which flourished in post-war Lithuania, then often seen in public sculptures and state commissions. The artisans who remain in these glass workshops and whom Olšauskaitė continues to visit embody and transmit this artistry, which she, in turn, transforms and bends.
sekretas is punctuated by the appearance and vanishing of works by fellow artists, friends, and guests. Unannounced, their liminal presence will manifest itself throughout the exhibition.
sekretas is accompanied by an extensive public program that will unfold throughout the opening weekend. Moving between sonic contributions, a lecture performance, publications, and edible offerings, sekretas will be activated by Lauren Duffus, Antanas Lučiūnas / Ragemore, digestivo (Lucía Bayón and Lukas Meßner), Raimundas Malašauskas, BILL (Julie Peeters), and Han-Gyeol Lie.
sekretas will also be accompanied by secrets, a publication that gathers words, plants, and glass contributed by Elena Narbutaitė, Marija Olšauskaitė, Maria Tsoy, Aleksandra Krivulina, and Tom Engels, designed by Julie Peeters.
Marija Olšauskaitė (b. 1989, Lithuania) lives and works in Vilnius. Her solo exhibitions include Song Sing Soil (with Eglė Budvytytė), Vleeshal, Middelburg (2023); I Want to Stuff My Heart with Moss, Editorial, Vilnius (2022); Witness on our behalf, Contemporary Art Centre, Vilnius (2019); and Marija & Petras Olšauskai: Miss Bird, Art in General, New York City (2014), among others. Olšauskaitė participated in group exhibitions internationally, including The Milk of Dreams, the 59th International Art Exhibition of La Biennale di Venezia (2022); and suddenly it all blossoms, RIBOCA2, Riga International Biennial of Contemporary Art (2020); Homegrown, Hauser & Wirth, online (2020); I walk the night, PM8/Francisco Salas, Vigo (2019); Joy and Mirror. Port city, Fourtoseven gallery, Riga (2016); and Karaoke Police, Kunstverein, Amsterdam (2015), Nomas, Rome (2014), Contemporary Art Centre, Vilnius (2013), among others.
sekretas is realized with the support of the Embassy of Lithuania in Austria and the Honorary Consulate of Lithuania in Graz.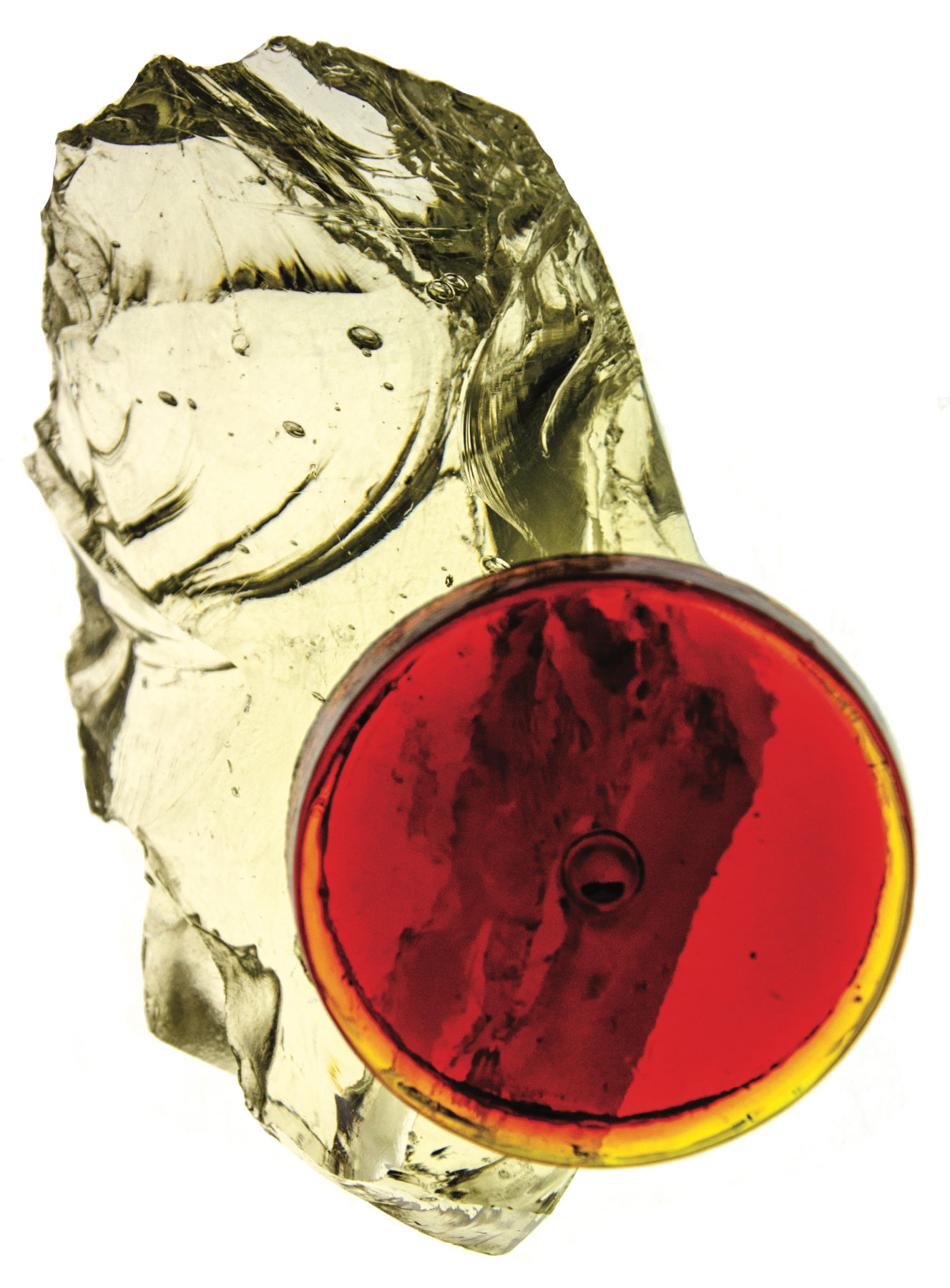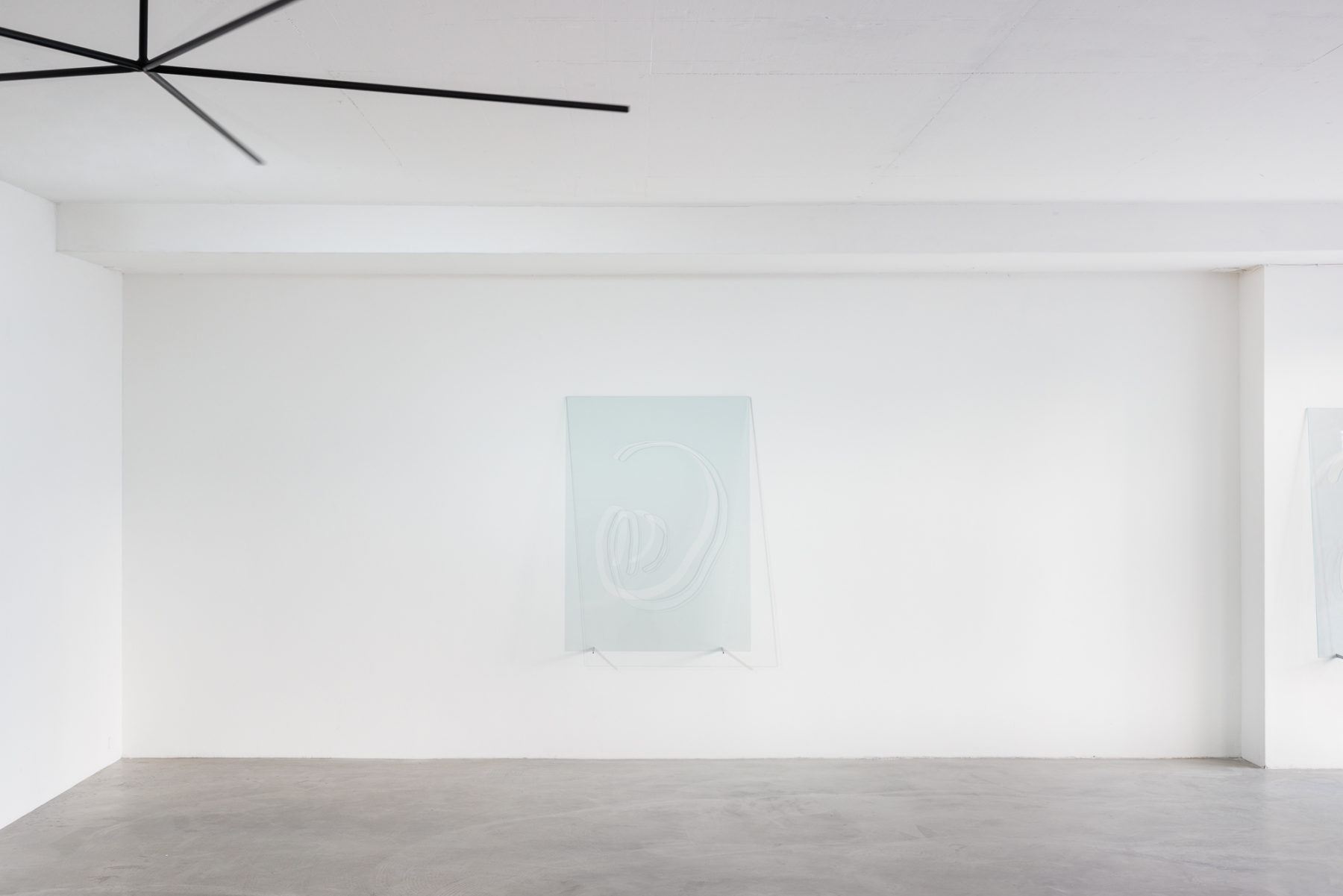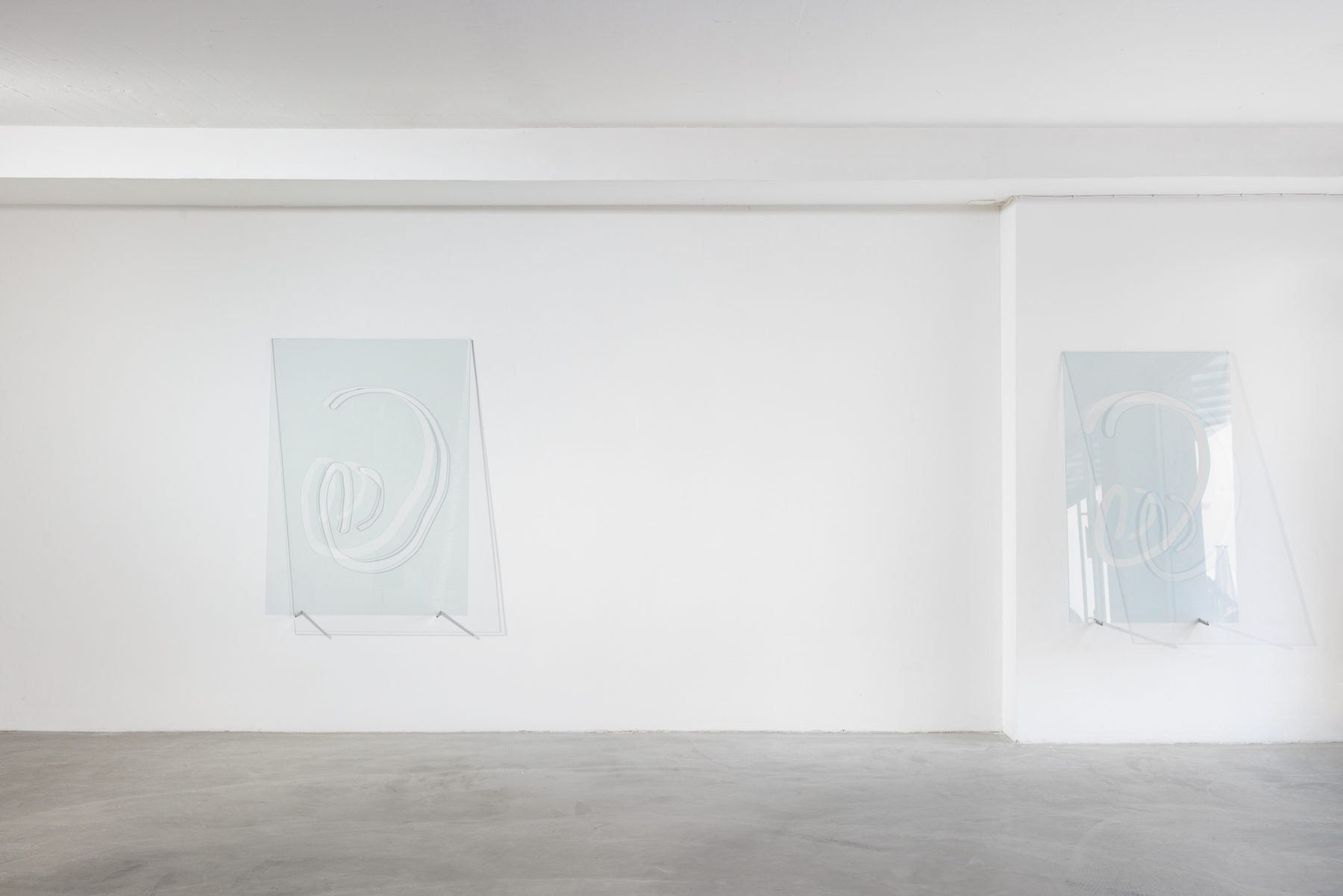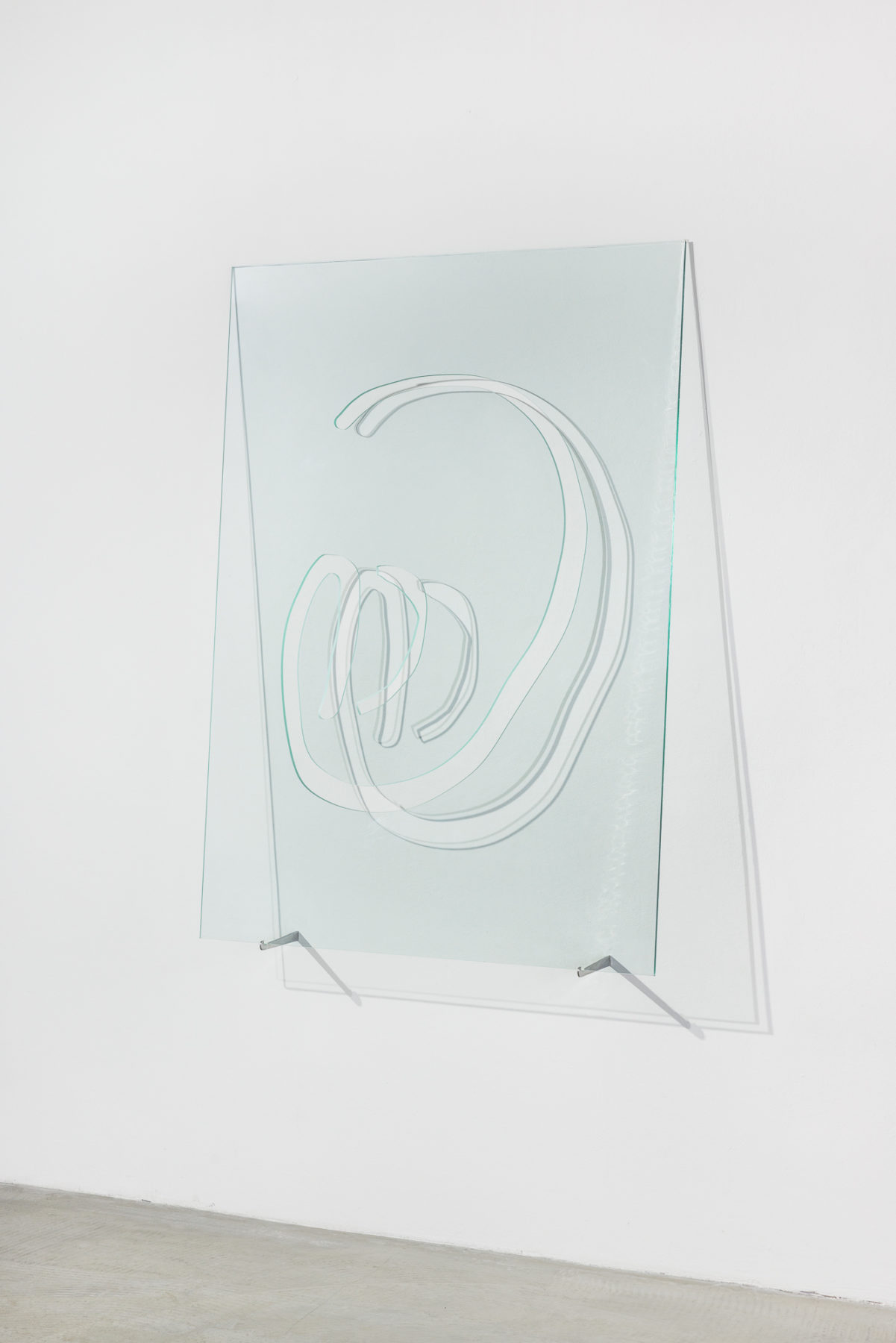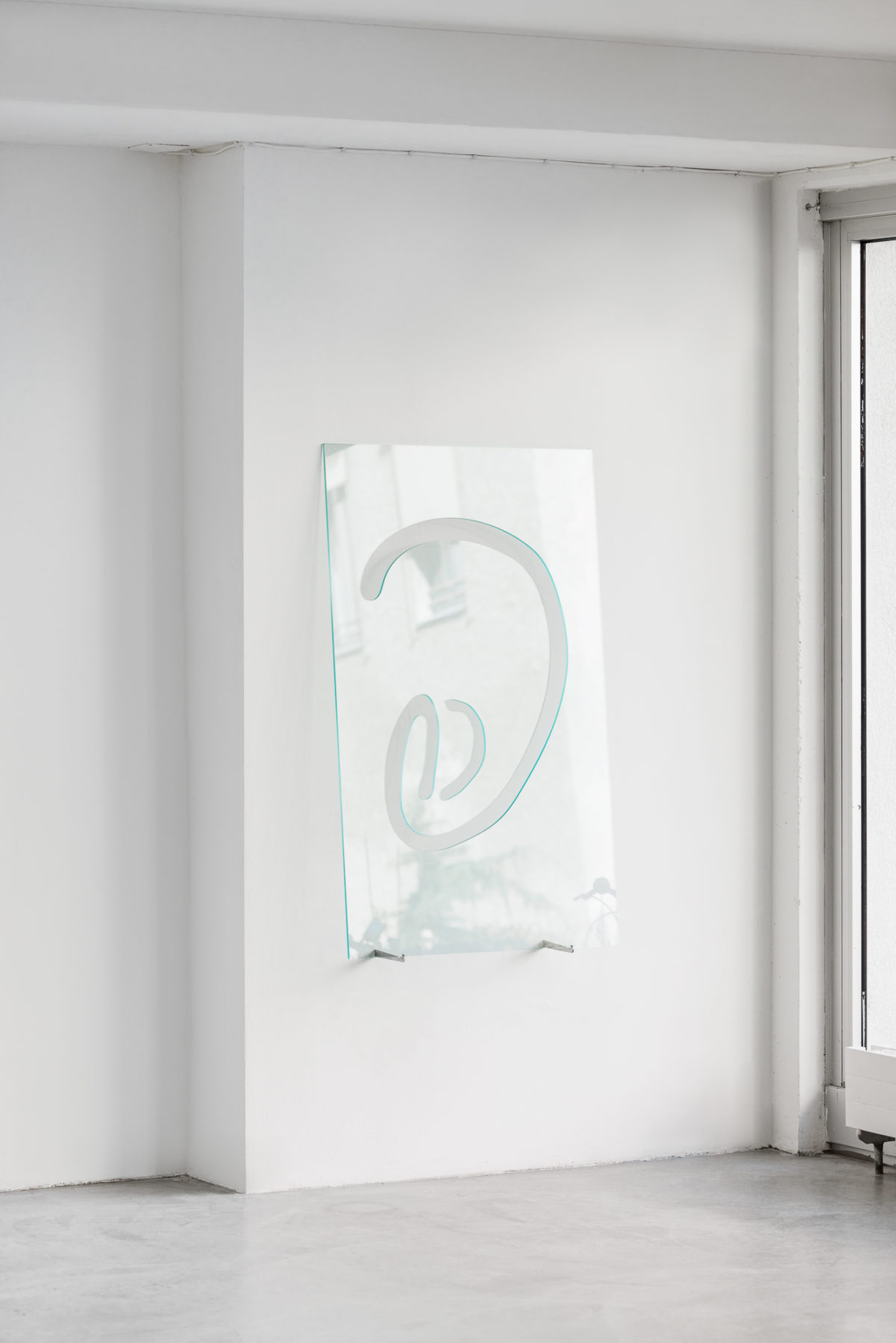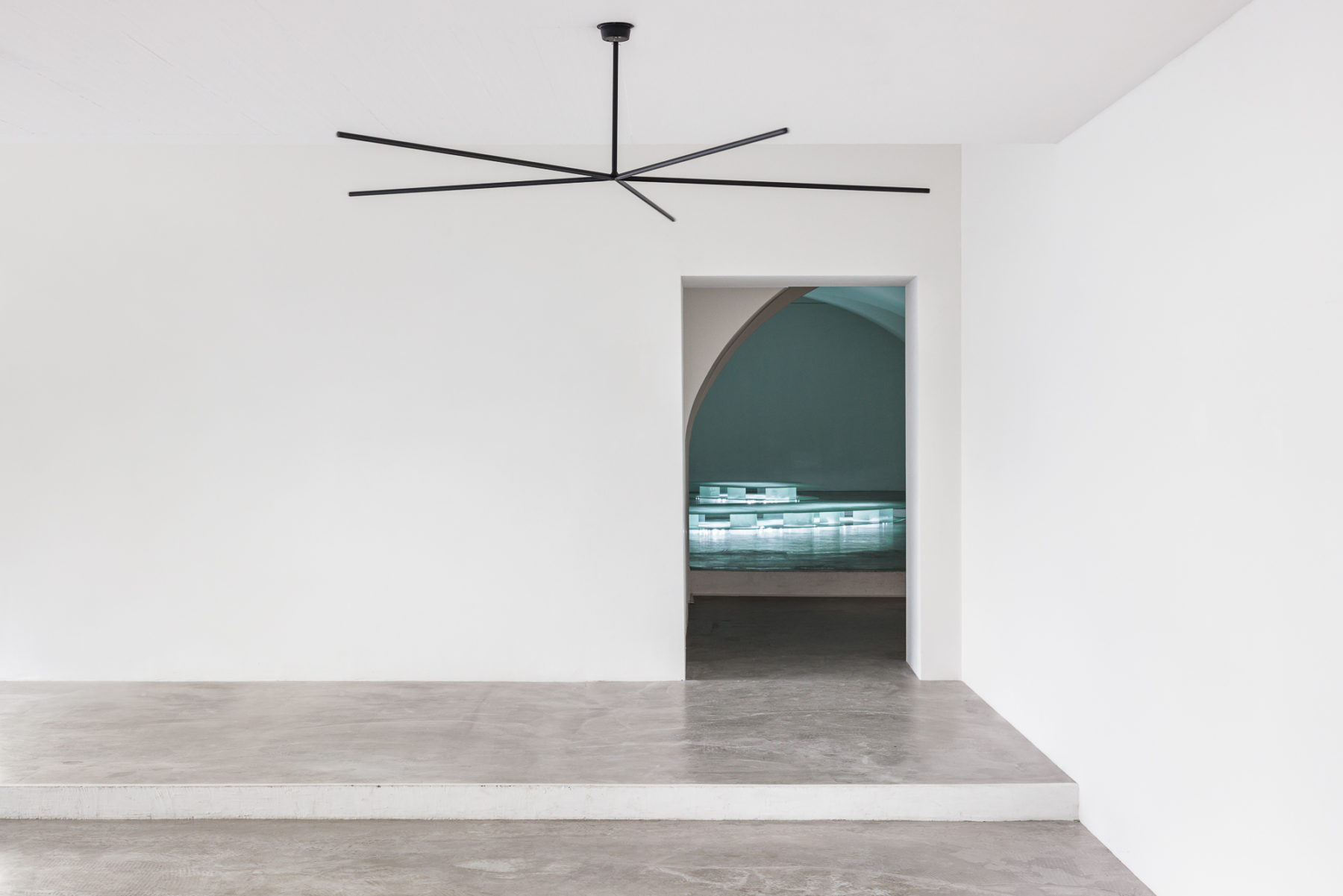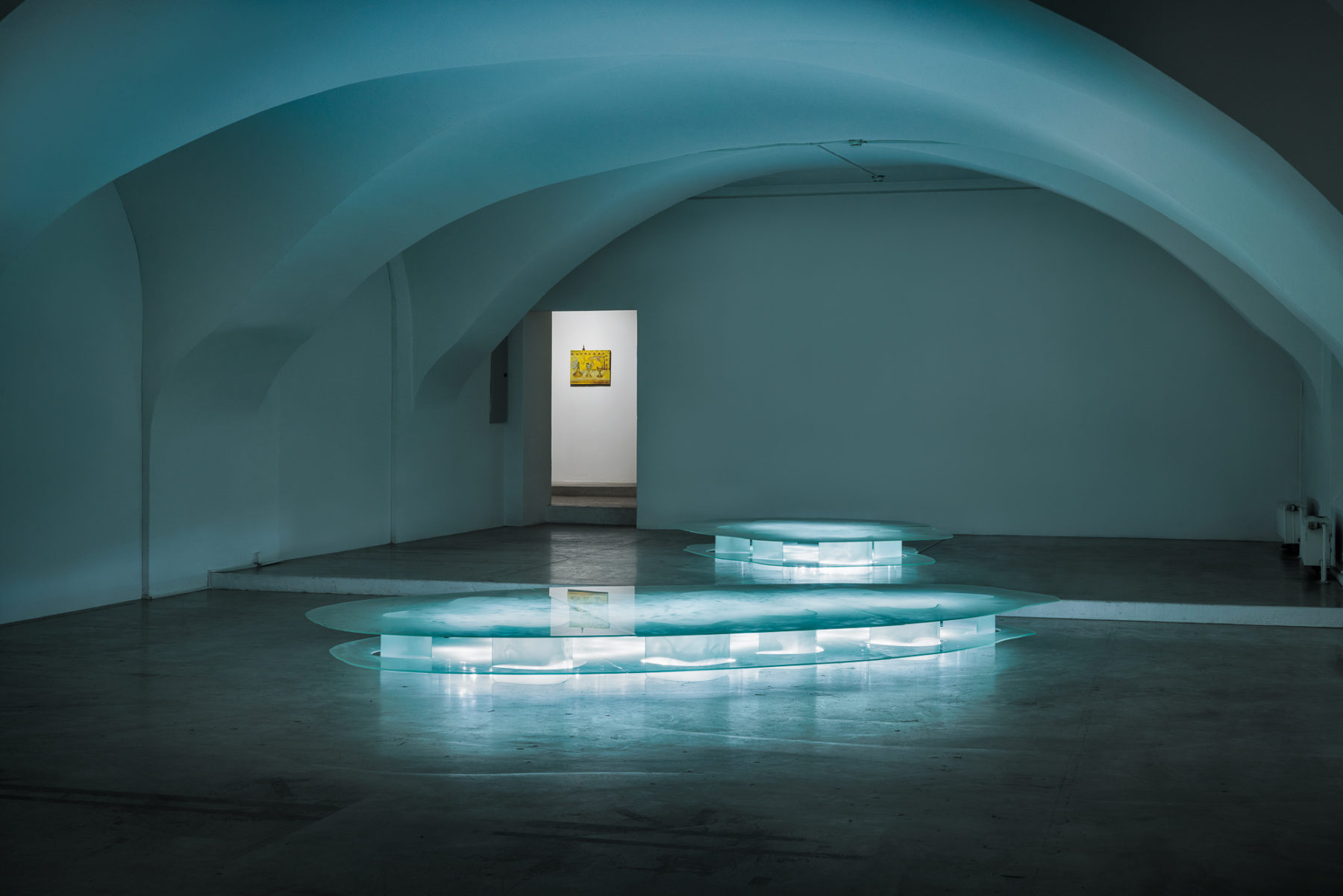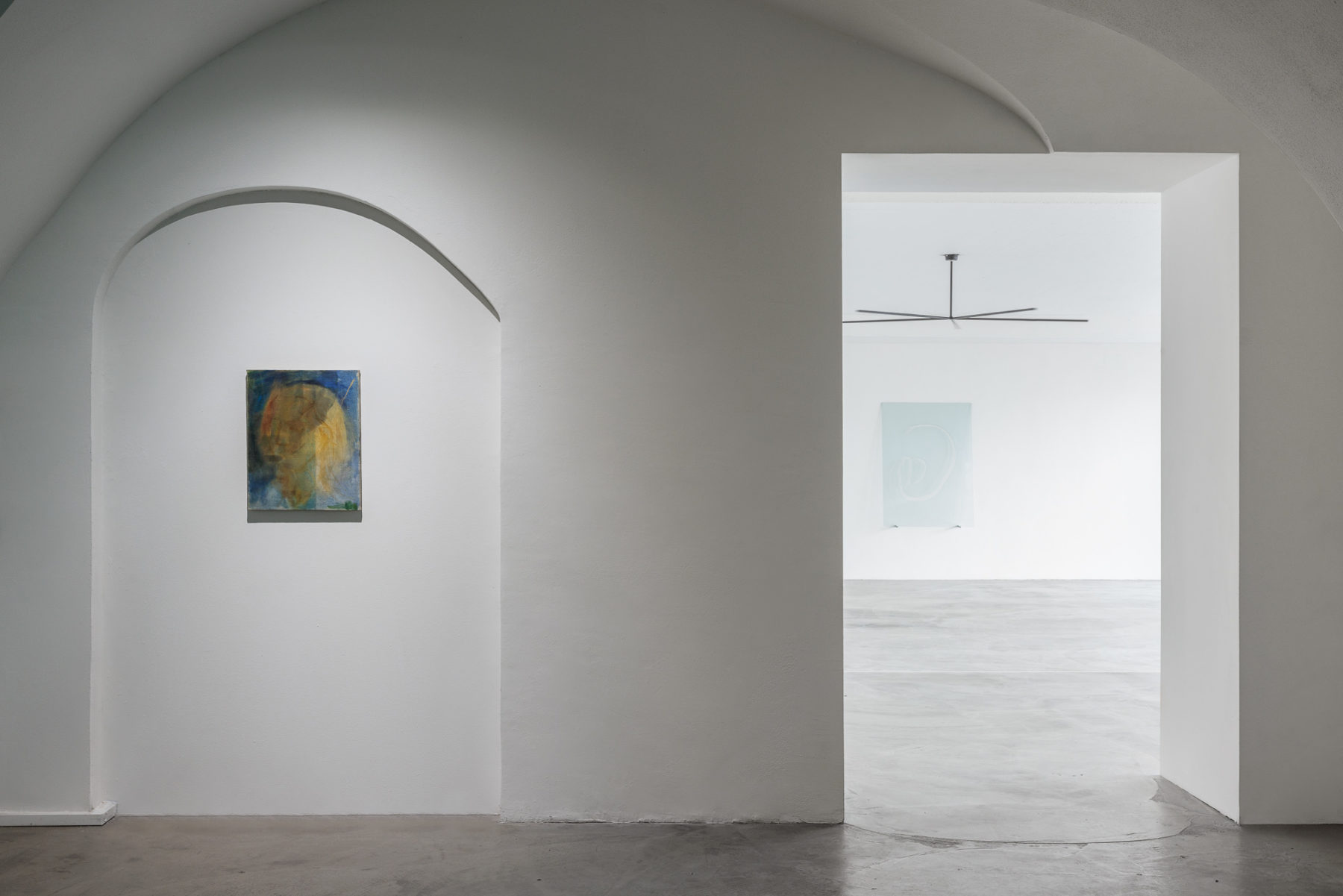 "It all started with a swinging bell," she said. "I want the bell to crack."
When a bell is struck, sign and time are given. For citizens to celebrate life in Old Town, for them to hide or worship, to lay off workers and to start again, to be reminded that life is finite, for the clearance sale to begin, for the photographer to rinse her exposed paper, a safelight blinking. Every time a bell is struck, it rings within. In this mutual implication of time and populace, RHYTHM, CITIZEN resounds.
RHYTHM, CITIZEN converges the brand names of two manufacturers of clocks and watches: Rhythm and Citizen. Found and coupled, they set the scene for an exhibition that unravels and complicates how the measures of time move and make move; how they give pulse to artifacts, their fictions and patina; how their fleetingness tantalizes the making of an image.
RHYTHM, CITIZEN punctuates the Grazer Kunstverein by way of sculpture, photography, design, and situated interventions. It marks the instance when time is halted, frozen and encrusted, and then again set into motion. It wandered from the city of Nicosia, like a passage or a crossing, like a captor of time—eyes unfurled, then, again, shut.
RHYTHM, CITIZEN takes shape through the cadence of a poem, the periodicity of labor, the sliding of glass doors, the frequencies of life, the patterns of music, and the movement marked by a succession of strong and weak elements.
RHYTHM, CITIZEN gathers friends and collaborators, neighbors and facilitators: Felix Taylor (Platten Haus), Koula Savvidou, Tasos Lamnisos (x.ypno), Stelios Ilchuk, Claudia Paschalides, Kyriakos Kyriakides, Marietta Mavrokordatou, and Photo Net.
RHYTHM, CITIZEN is an occasion for EXHAUST [ΕΞΩΣΤ], an album by x.ypno & steliosilchuk to be played aloud and alive, and for Borrowed, a publication by Maria Toumazou, Aristotelis Nikolas Mochloulis, Georgia Triantafyllidou, Maya Tounta, Koula Savvidou, and Evagoras Vanezis, to be launched.
RHYTHM, CITIZEN is accompanied by R,C, a publication that combines artist statement, photography, and Cypriot rap, with contributions by Koula Savvidou, Tasos Lamnisos (x.ypno), Stelios Ilchuk, Maria Toumazou, Julie Peeters, and Tom Engels.
A bell is struck within her and keeps on ringing.
A bell is struck and keeps on ringing.
Maria Toumazou (b. 1989, Cyprus) is an artist and publisher based in Nicosia. Recent solo presentations include SCRAP B, Point Centre for Contemporary Art at Moufflon Bookshop, Nicosia (2022); Coil, Hot Wheels Athens (2021); and Fair-face Elysée, Thkio Ppalies, Nicosia (2019), among others. Toumazou has participated in group exhibitions including SISTERHOOD, Streaming voices unifying energies, Angelo Plessas and P.E.T. Projects, Nicosia (2021); Touch Release, Nassauischer Kunstverein Wiesbaden (2021); Hypersurfacing, NiMAC, Nicosia (2019); Soft stone documents, Municipal Arts Centre, Limassol (2017), among others. Neoterismoi Toumazou (Toumazou's former collective with Orestis Lazouras and Marina Xenofontos) was invited as a special guest to the Cyprus Pavilion at Biennale Arte 2017, Venice, curated by Jan Verwoert. Toumazou is the (co-)founder of Neoterismoi Toumazou, Maria Editions, and Metafora. She was a guest student at Städelschule, Frankfurt, after completing her studies at Goldsmiths College, London, and the Glasgow School of Art. RHYTHM, CITIZEN is her first institutional solo presentation.
The exhibition is realized with the generous support of the Cyprus Deputy Ministry of Culture – Cultural Services, Point Centre for Contemporary Art, and steirischer herbst '22. Maria Toumazou's residency at Grazer Kunstverein is made possible with the support of the Cyprus Deputy Ministry of Culture – Cultural Services (through the TRANSIT 2022 Artist Residency Programs scheme).
The exhibition would not be possible without the support of Hot Wheels Athens, Claudia Paschalides, Mariel Kouveli, and Orestis Lazouras.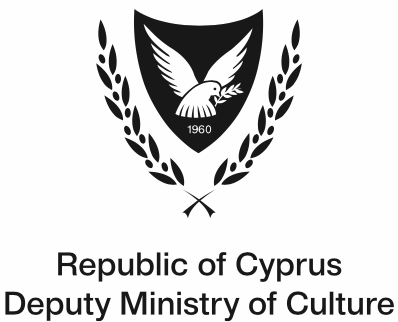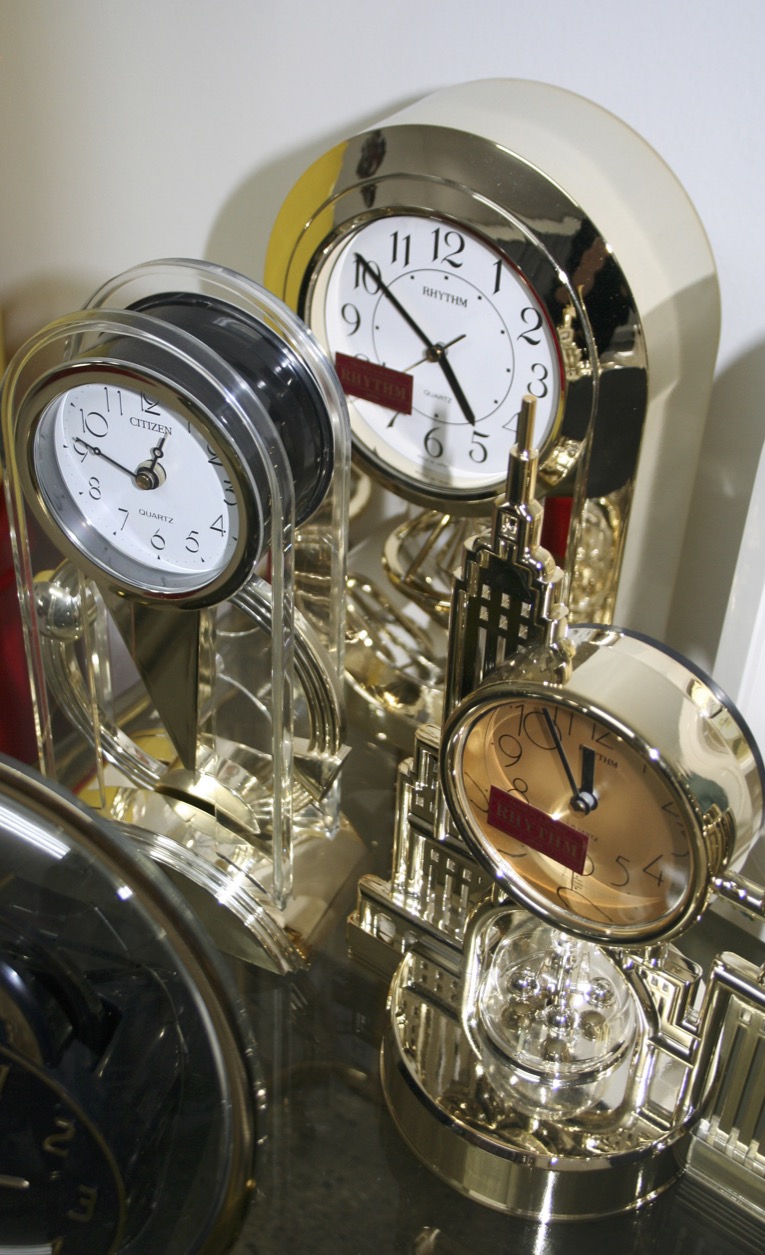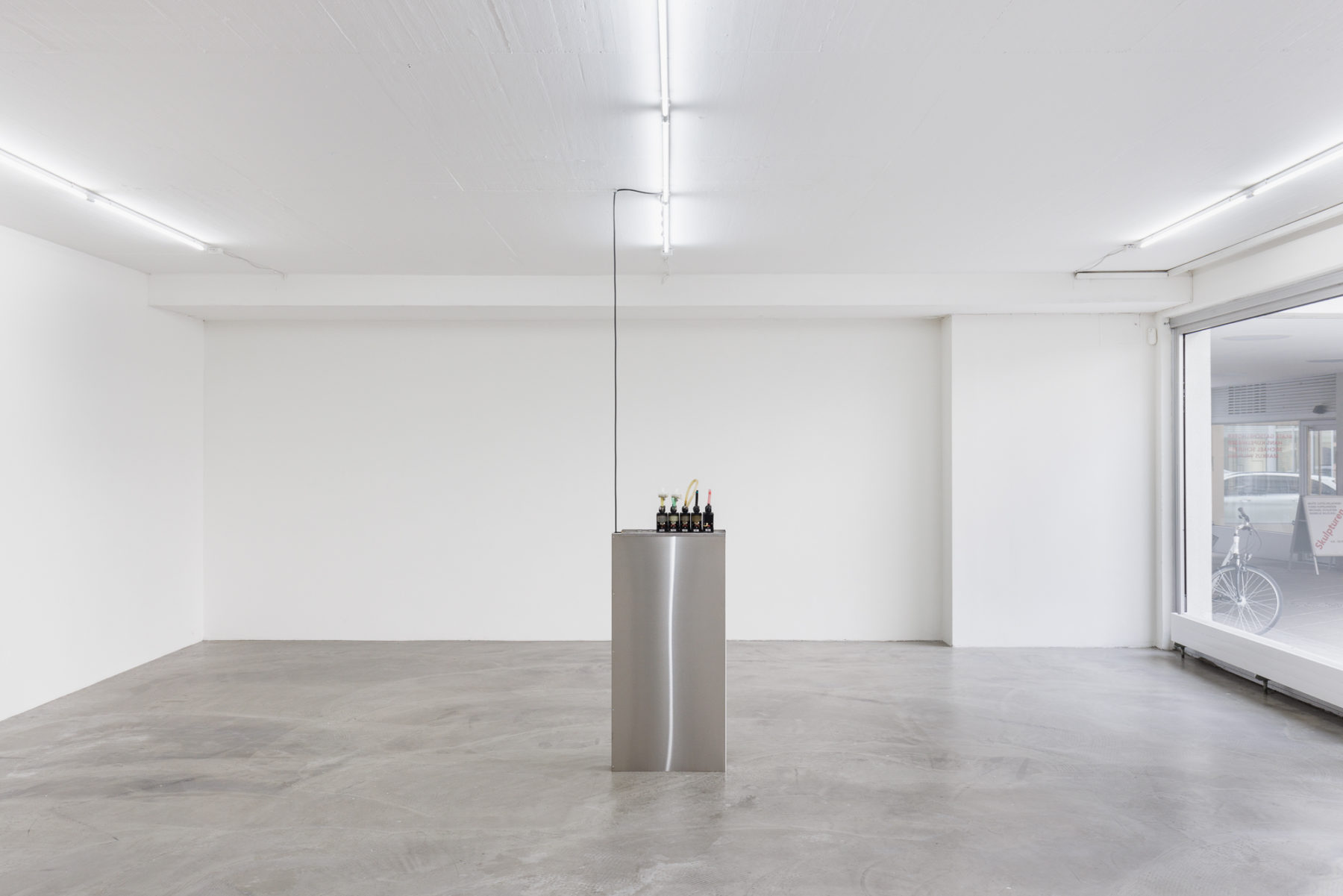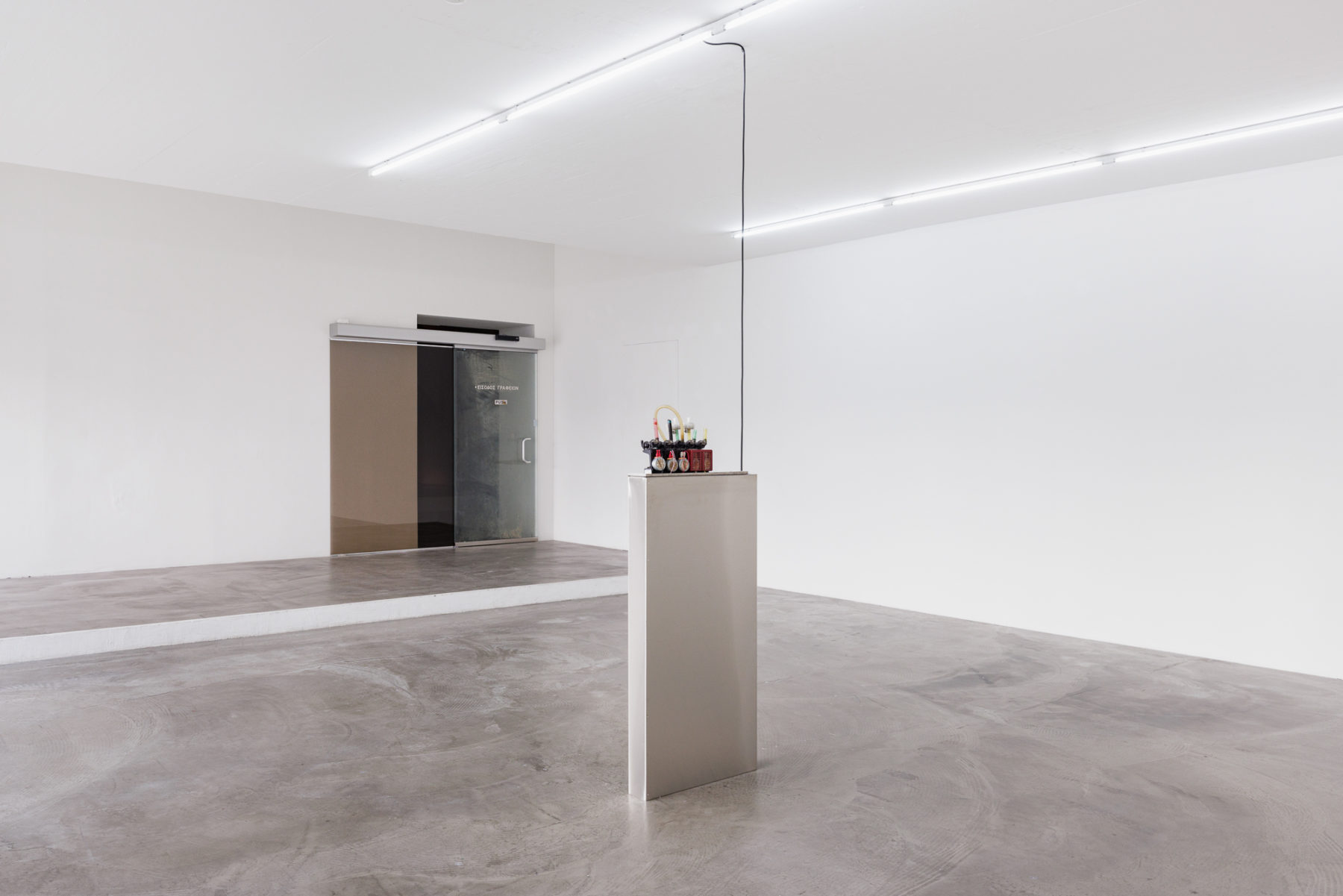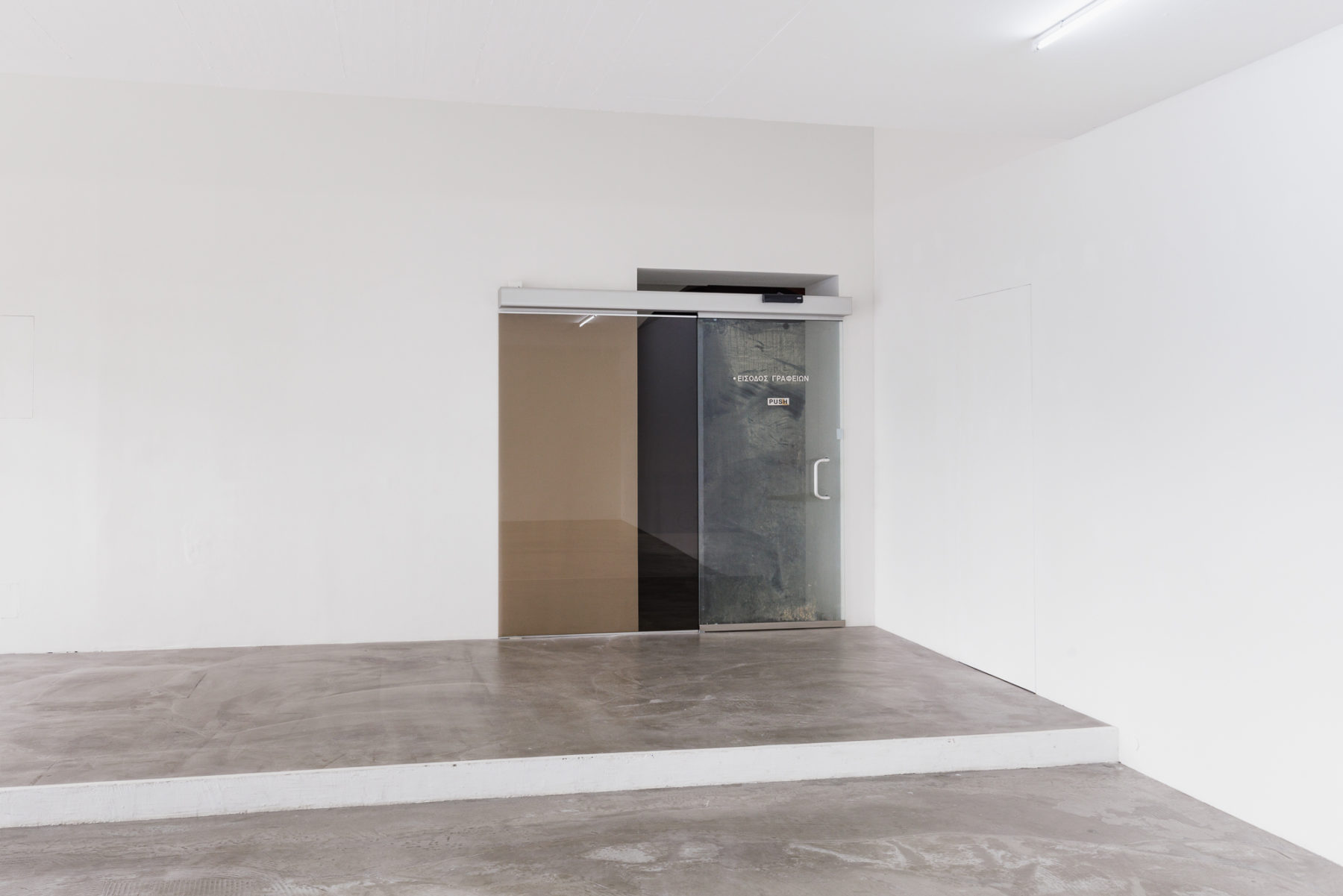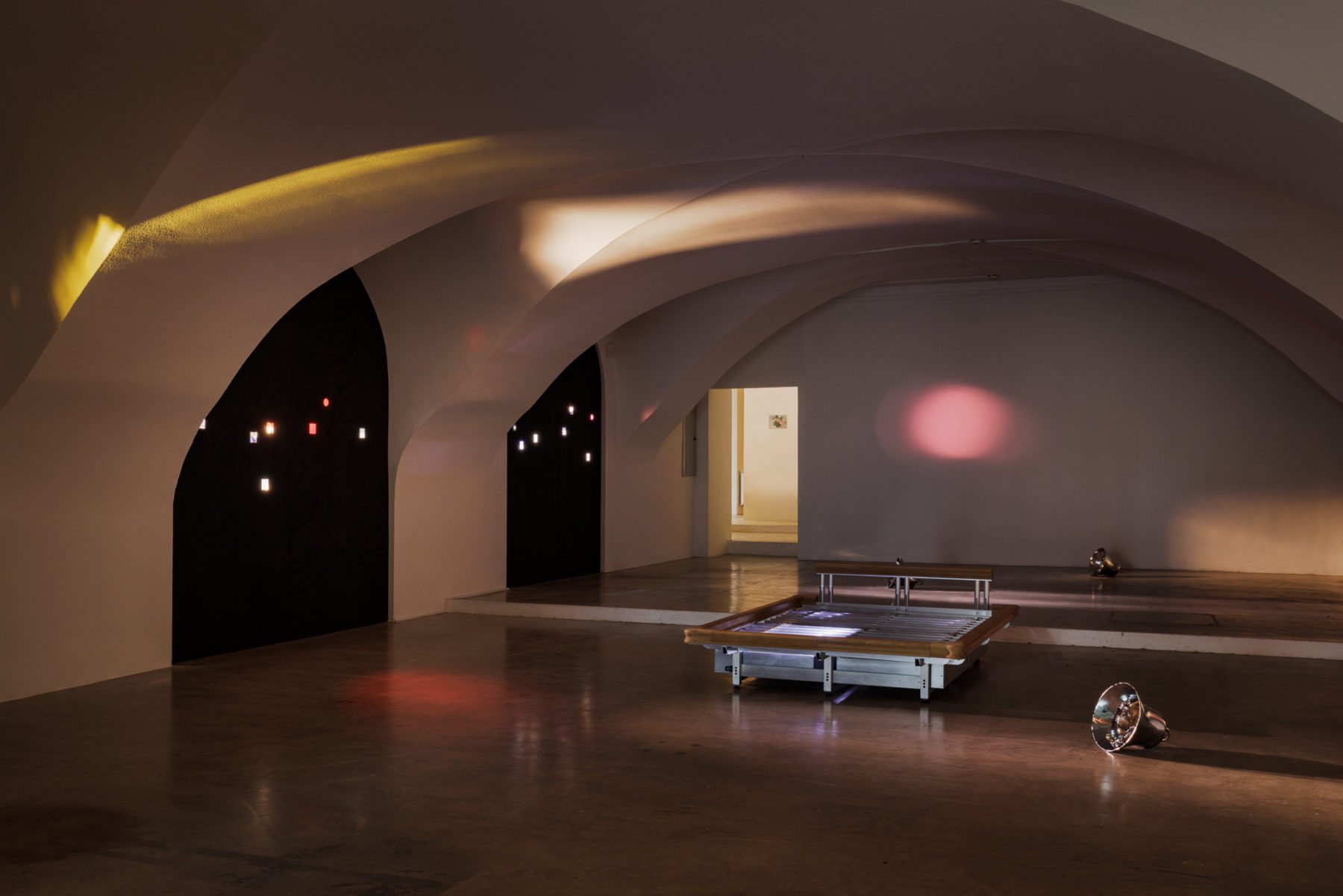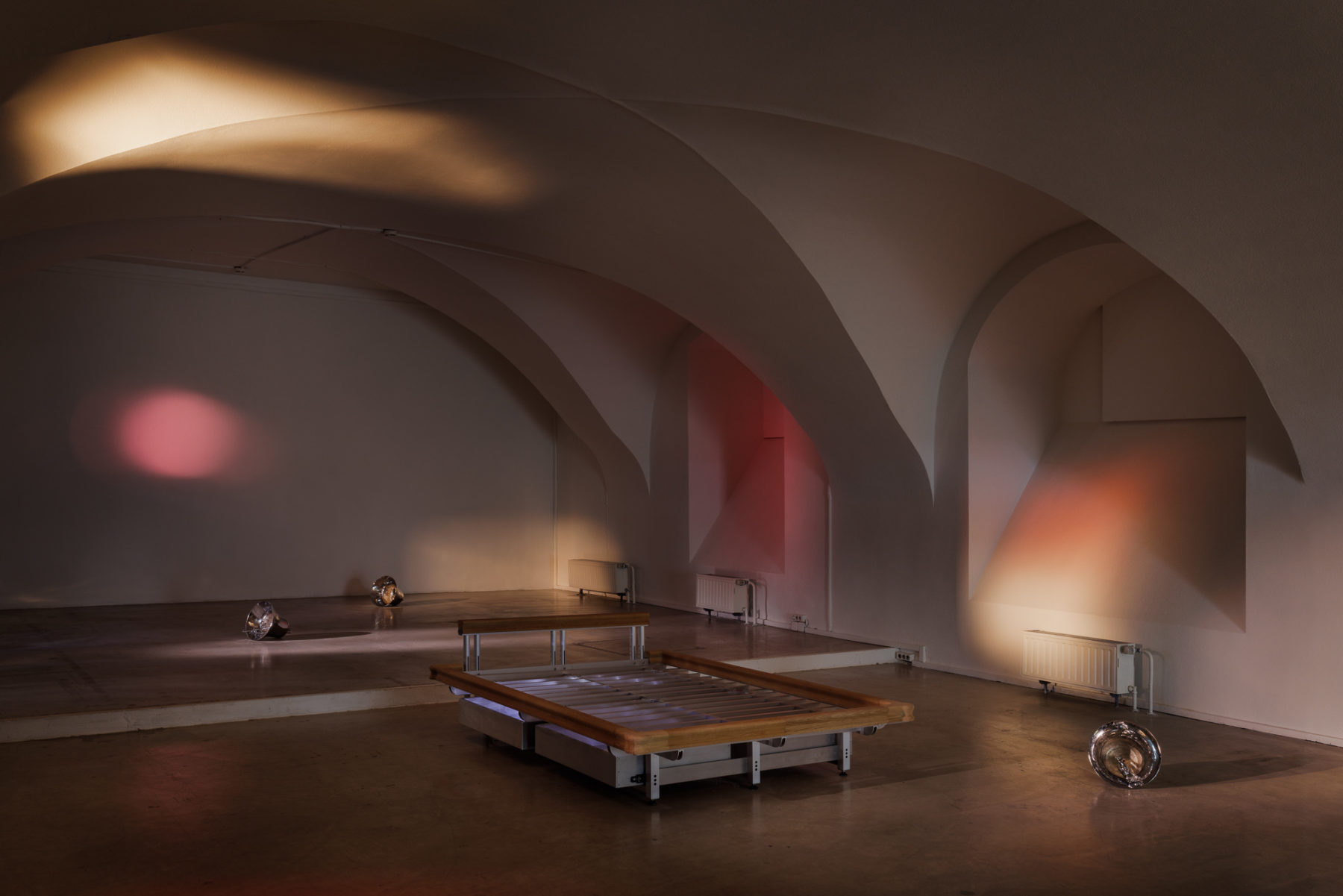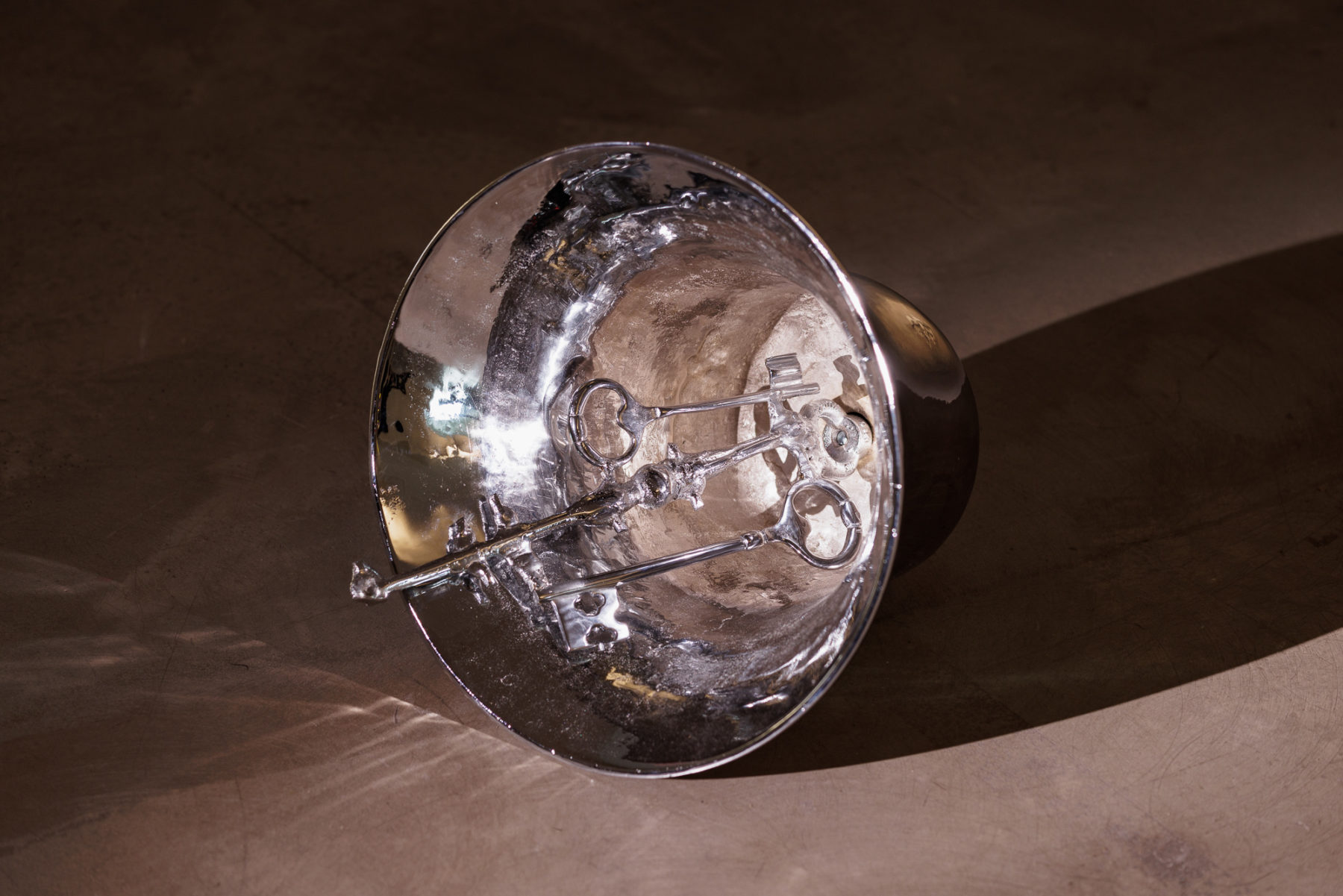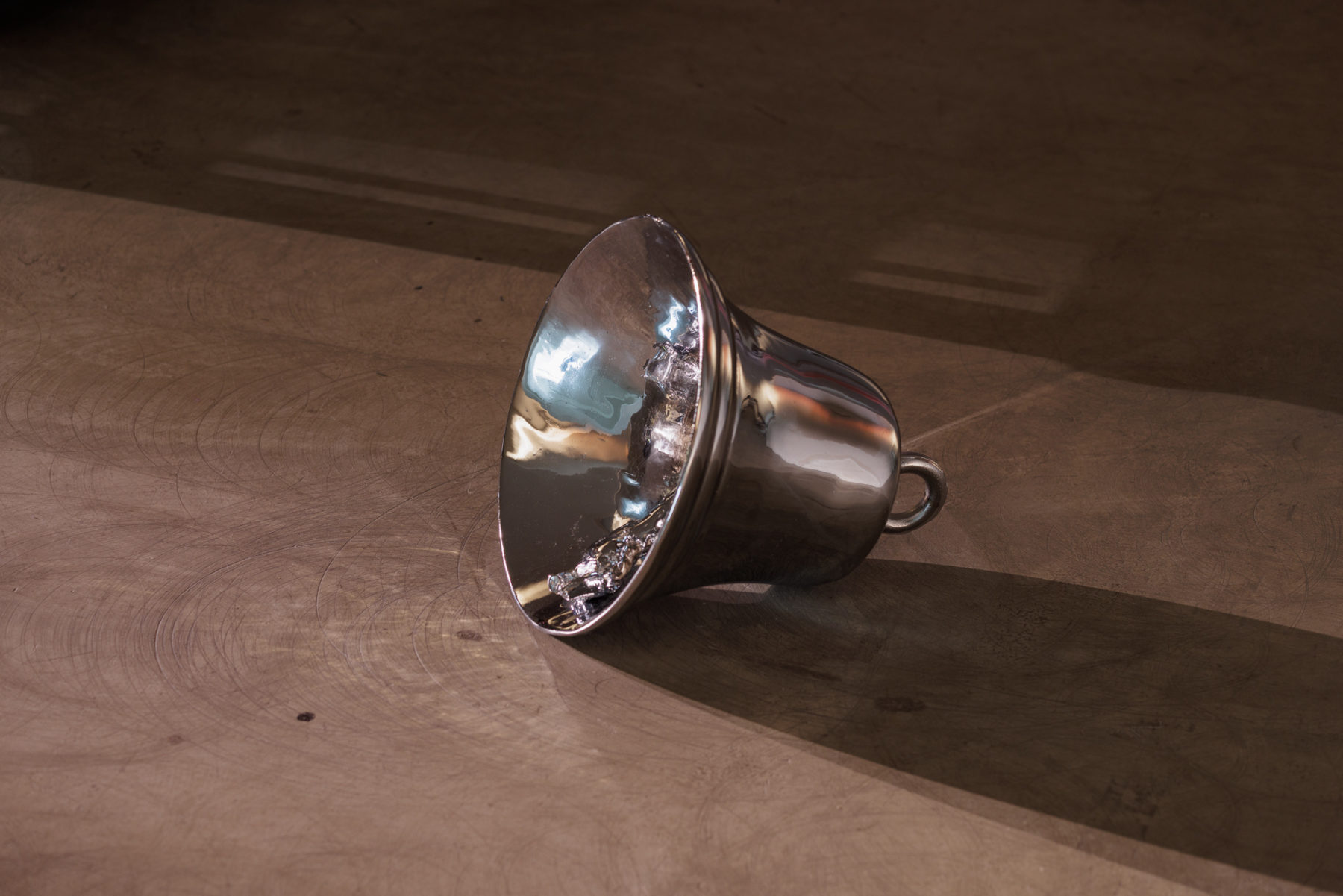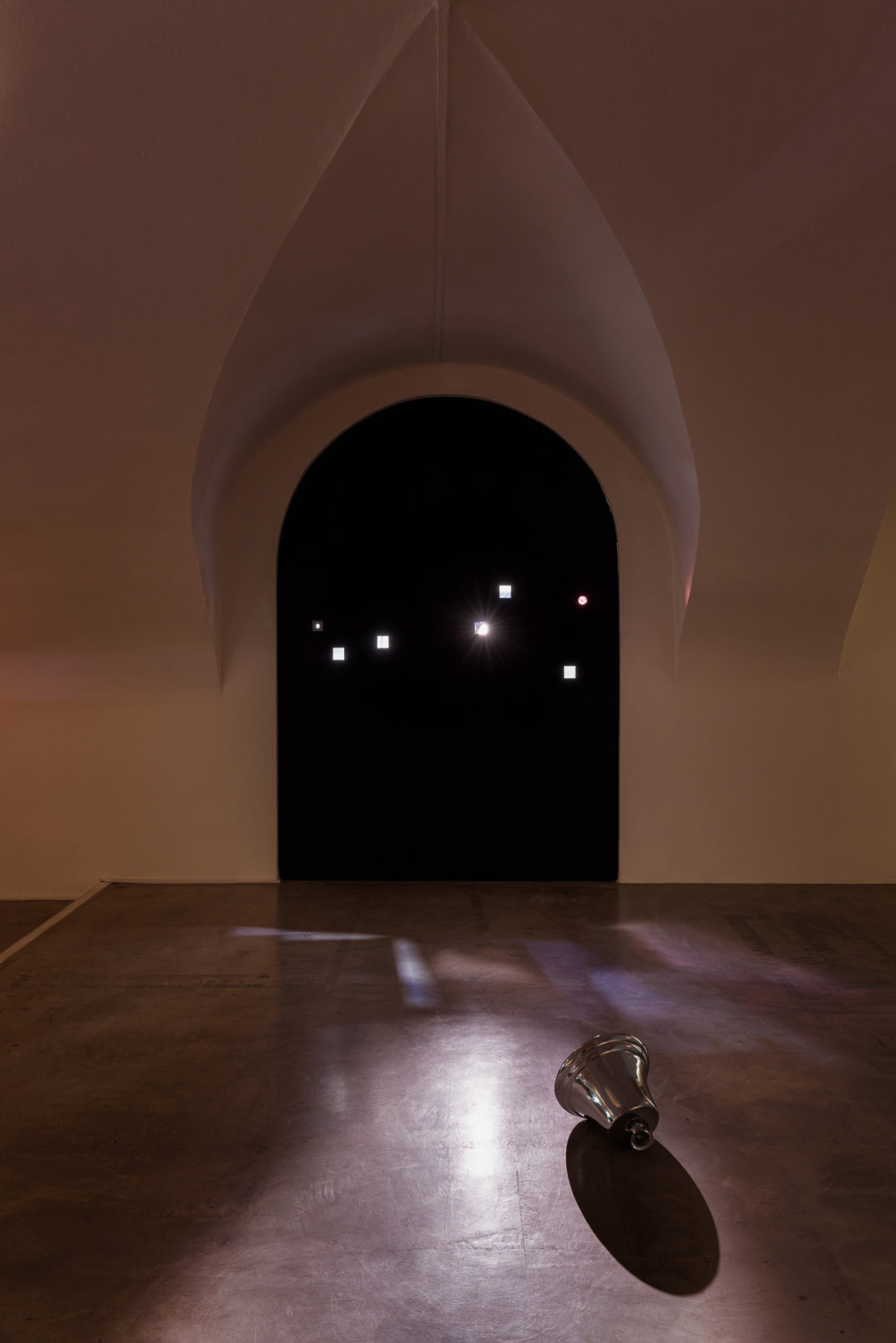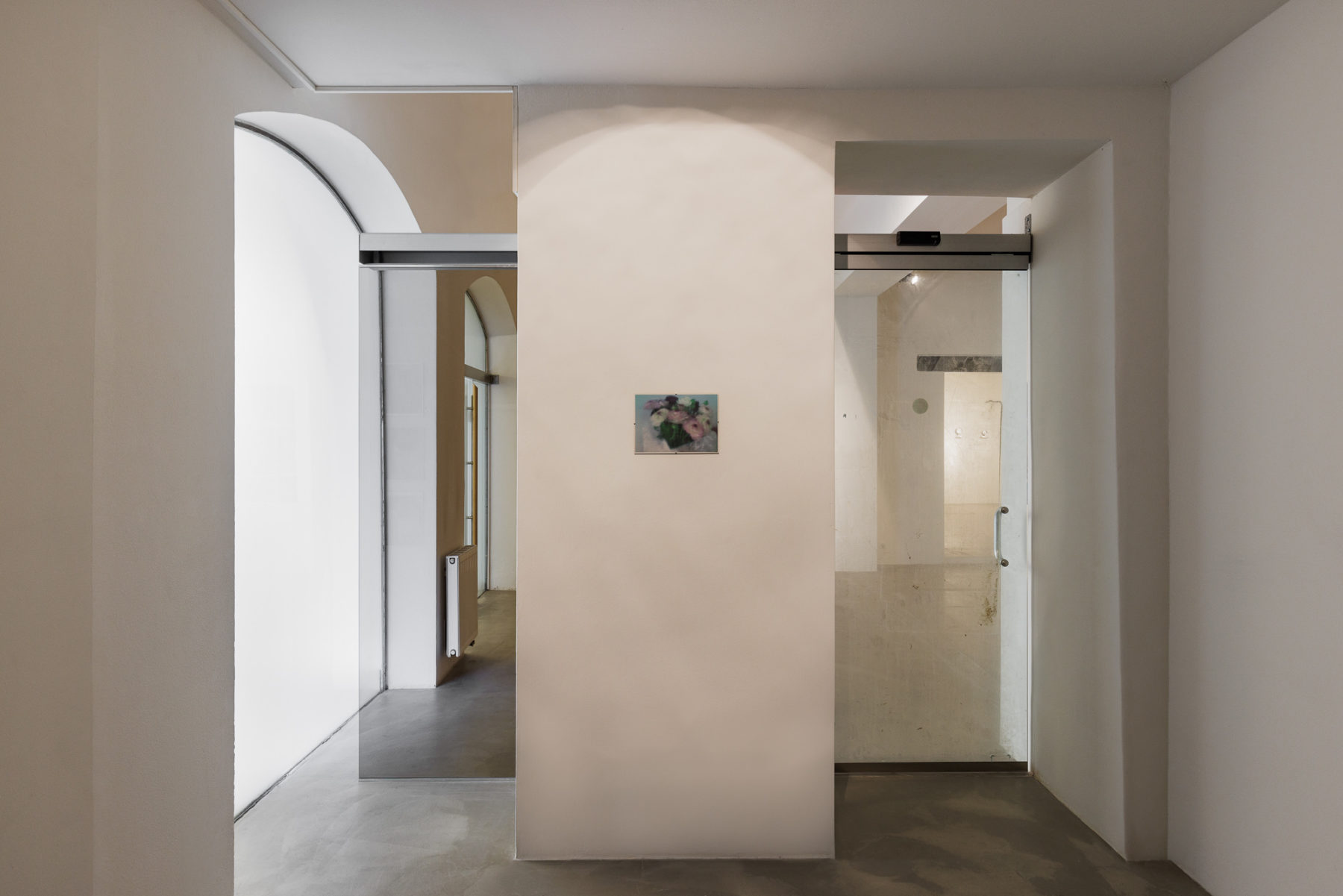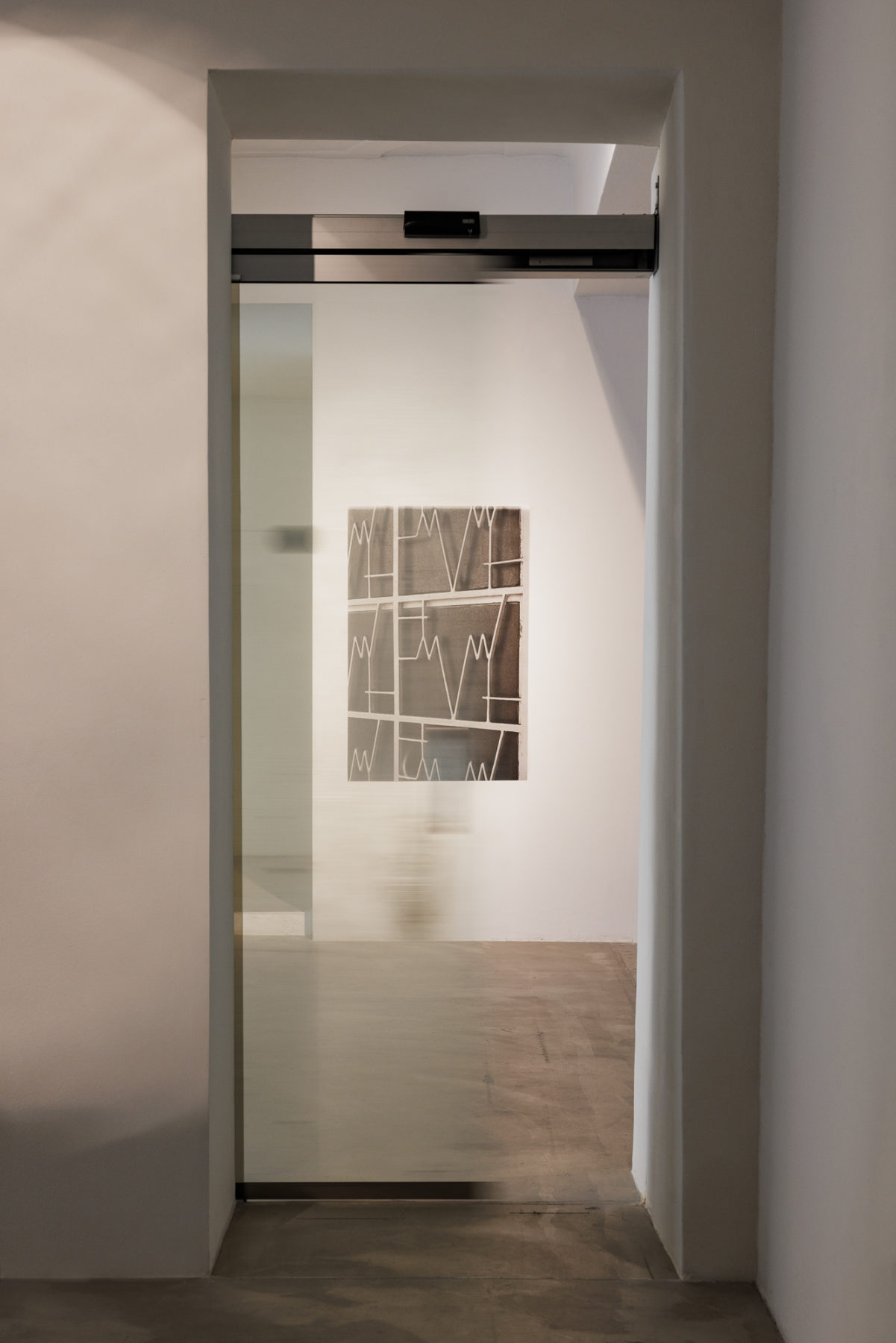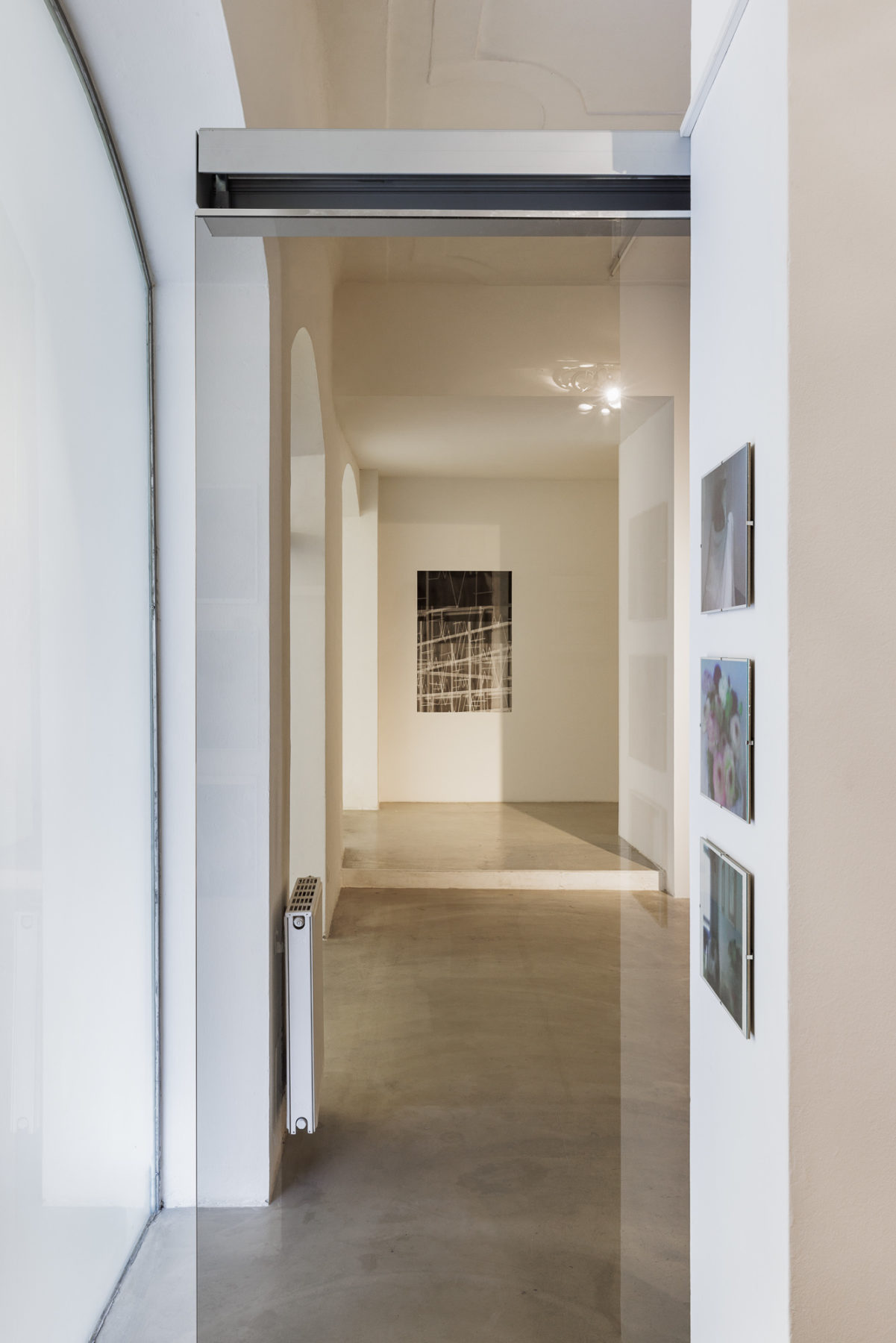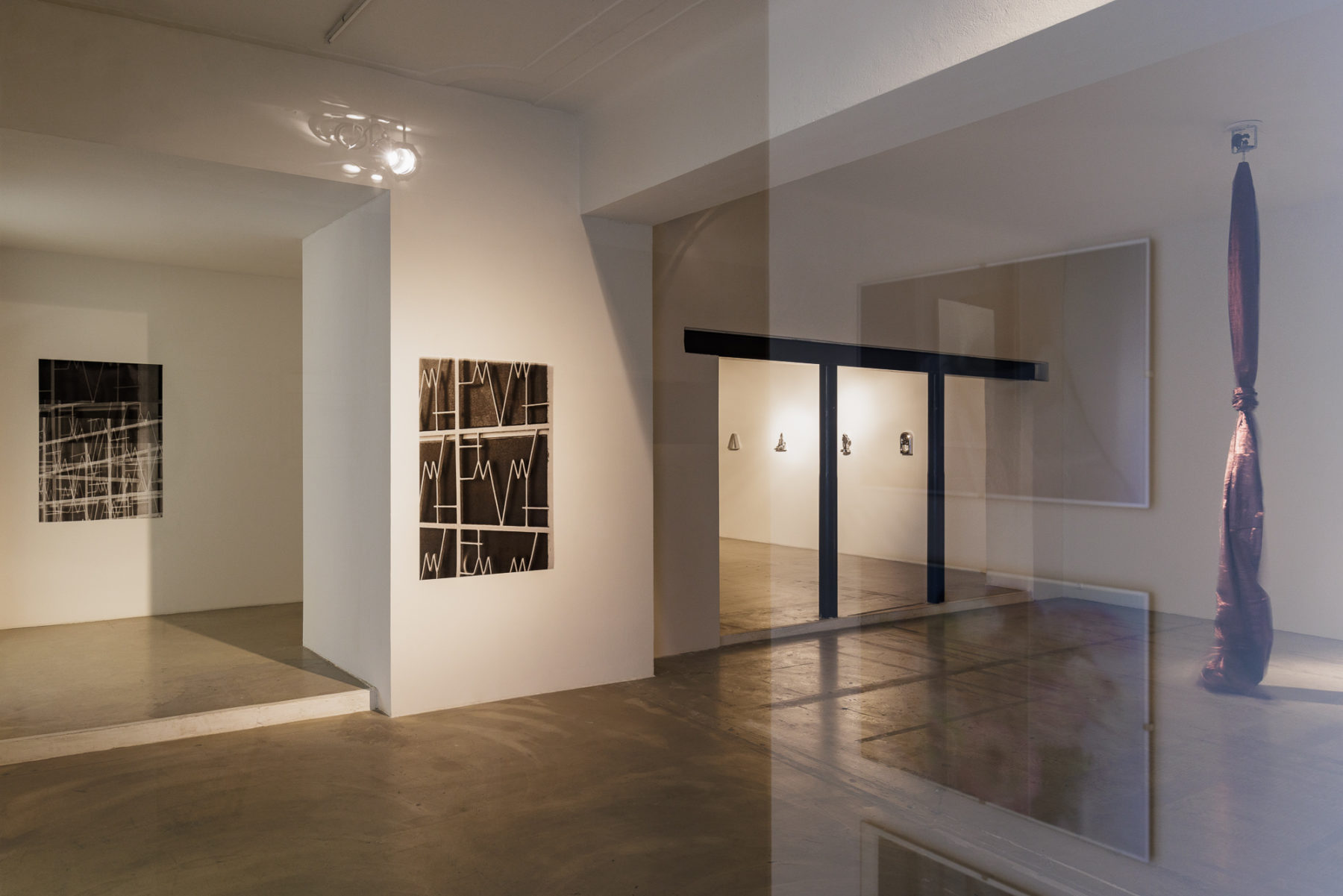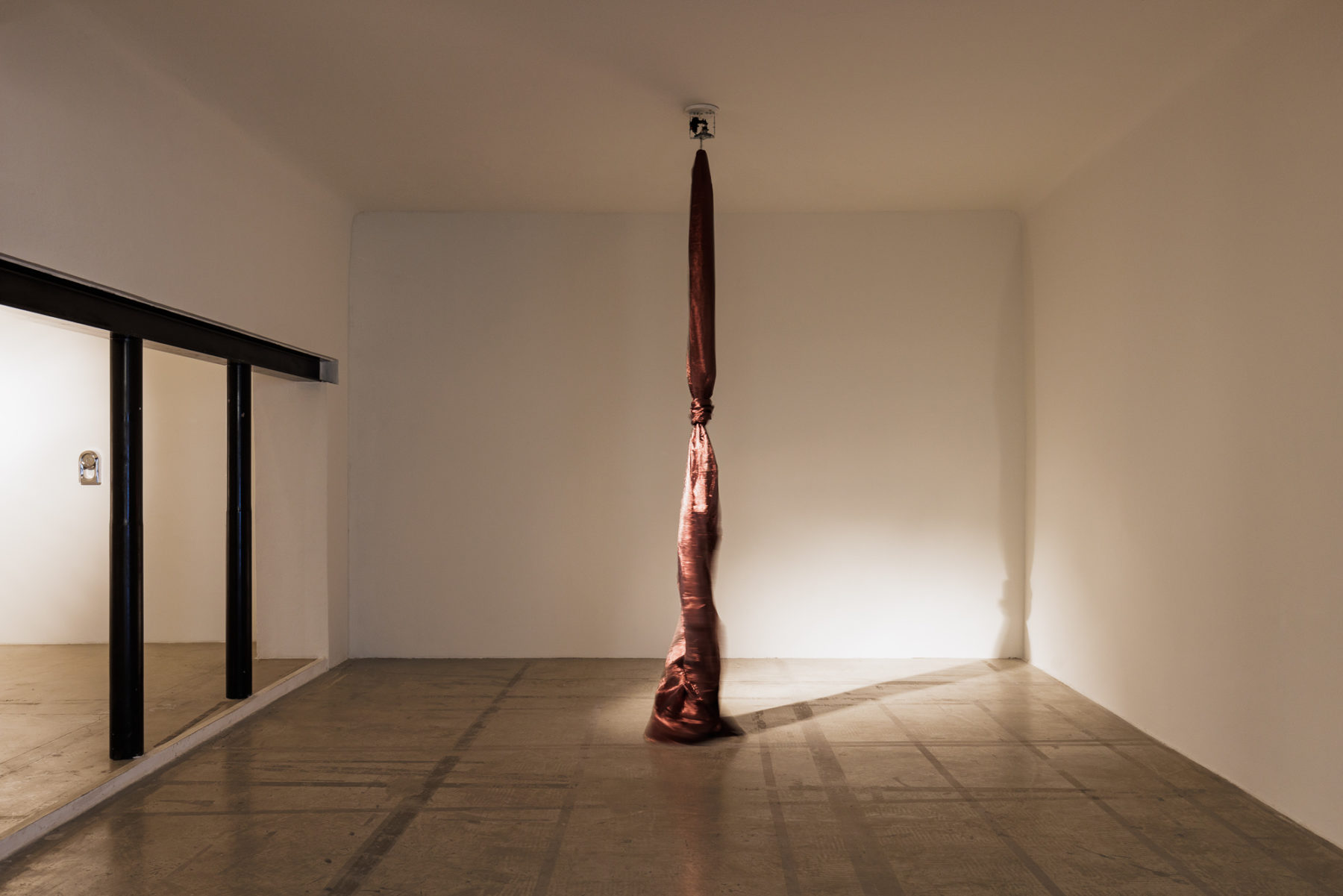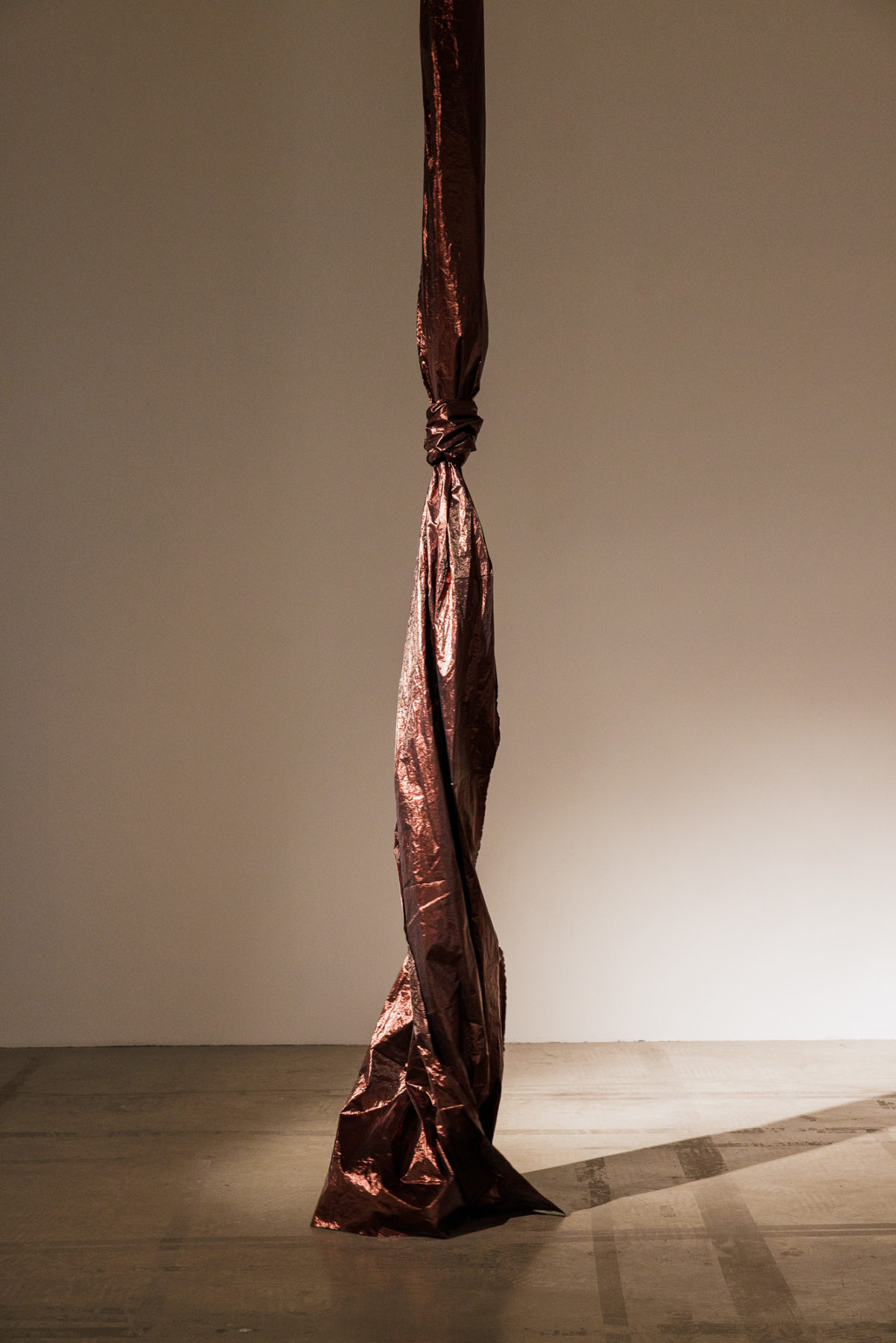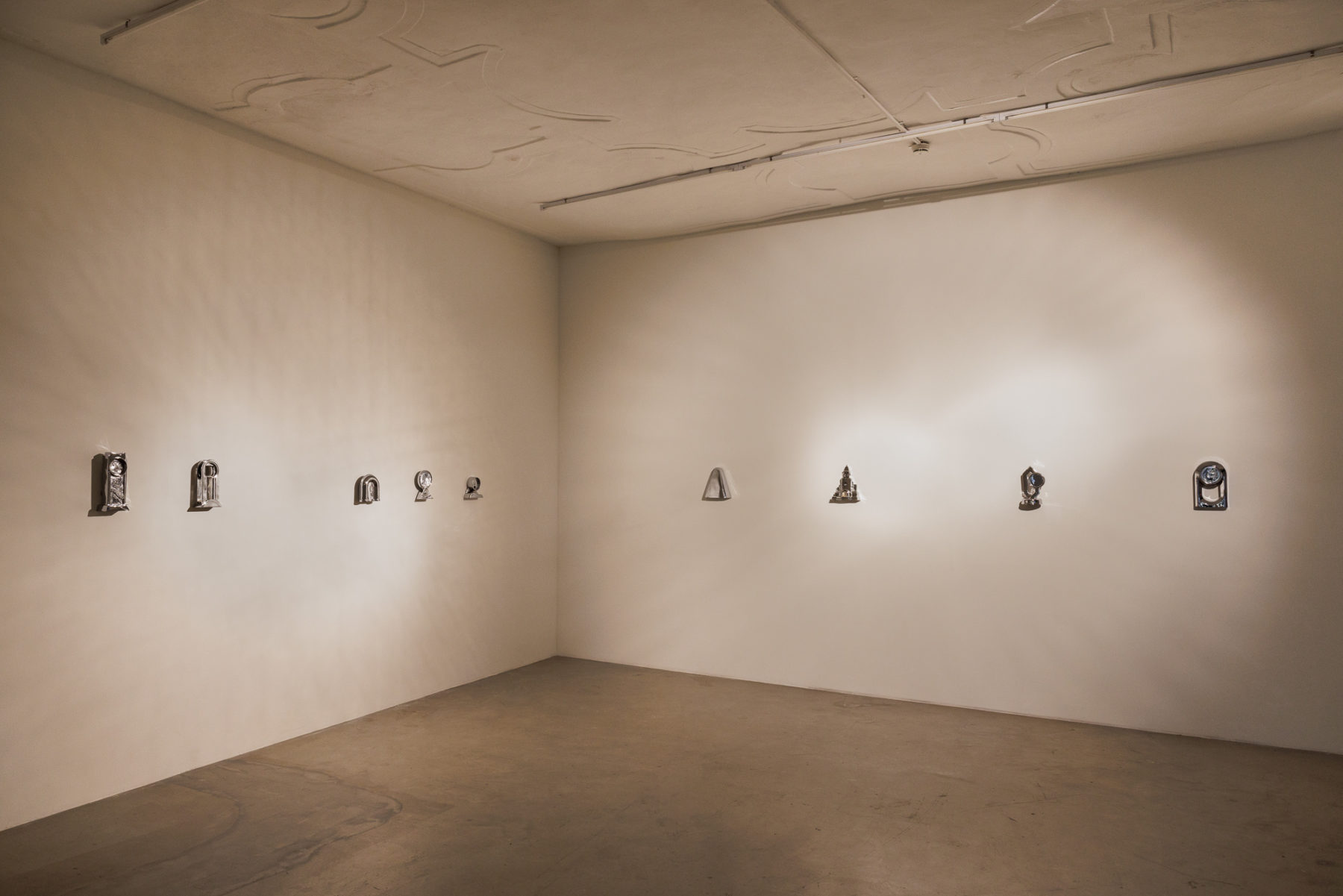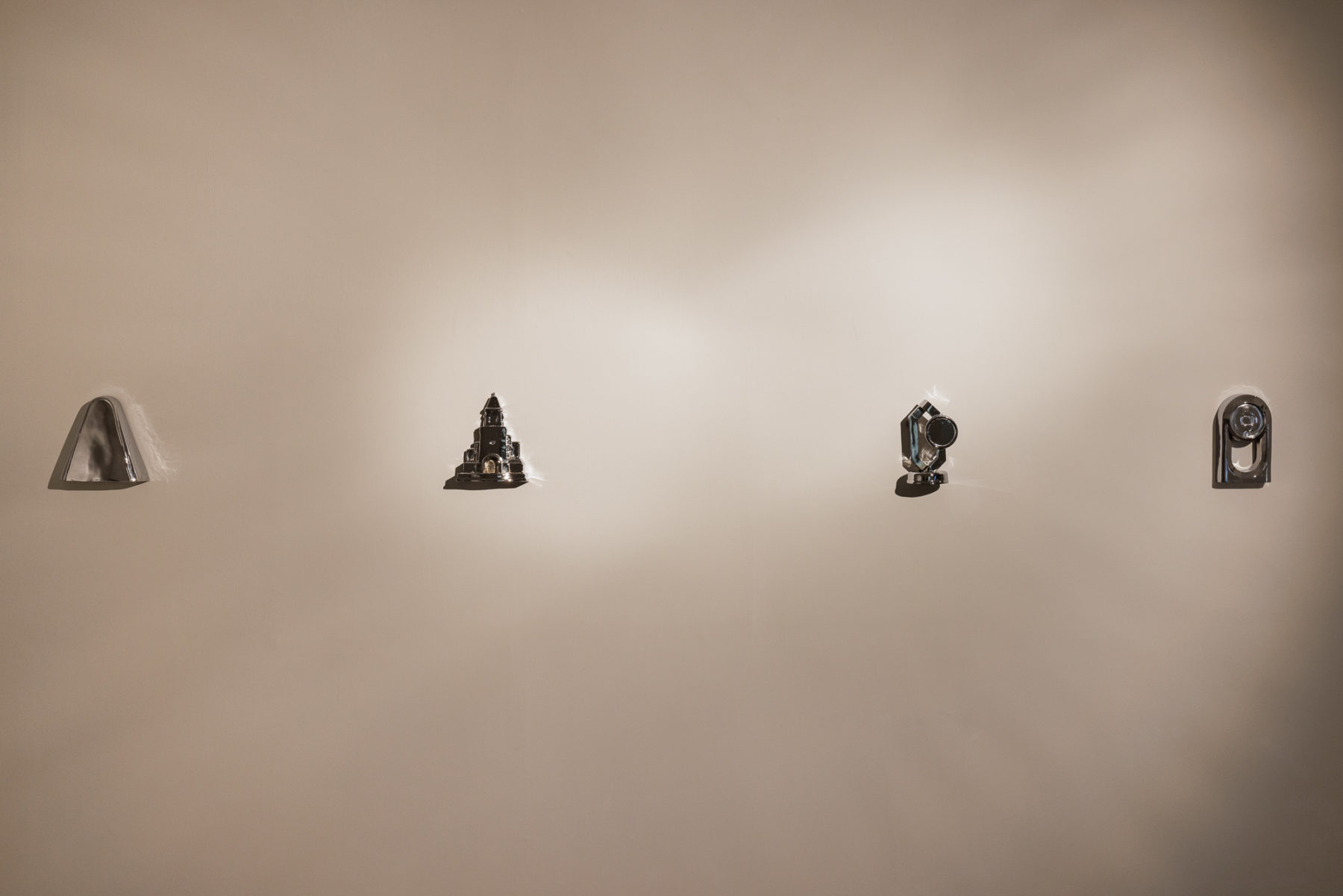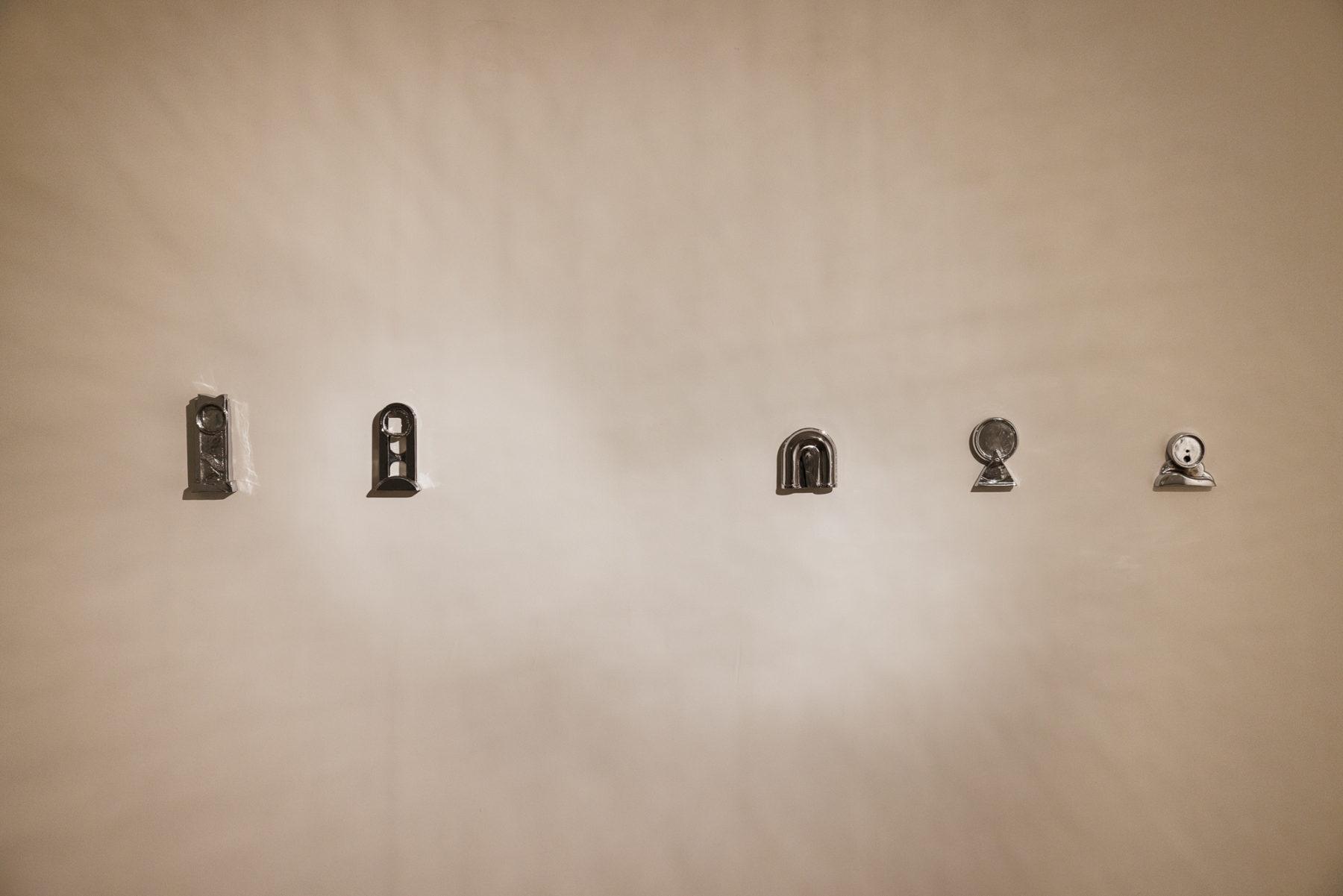 Attentive to the ways object, gesture, and affect are mutually implicated, appendage quivers between the remnants of fractured existence and the unbridled desire and pleasure to hold things—together and anew. Harnessing both situated and dislocated supplies, appendage unfolds as a series of fixtures, both material and situational, that are in turn connected or plugged into the architectural and social infrastructure of the Grazer Kunstverein.
doorways, door frames, bar handles, manual mechanisms, outdoor connectors, door eyes, cabin hooks, hinges, stoppers, 3M double-sided adhesive, self-adhesive, window tint removal kit, PVC shock absorber & screws, holes, original column, modern copy of original column, partition walls, galvanized steel, plasterboard, white paint, Olympia black corded phone, wall text, wall mount system, wall absorbers, phone memory, ring tone, handsets, large buttons, cell dead zones, audio assist feature, remote access, cable, splitter, missed calls, call history, membership fee, membership benefits, dispatches, open letter, agreement template, computer floor, calcium sulphate, high strength polypropylene, vinyl, linoleum, laminate, rubber, panels lowered and reversed, removed carpet, base, head, pedestal assembly, stringer, previous institutional identity, stationery, bumpers, nipple shields, sugar substitute, stretch film, food processor, standard blade, drinking water fountains, fittings, rings, stainless steel pipes, elbow, reducer, tee type, cross type, coupling, unions, adaptors, olet, fixtures, flanges, valves, drains, rub handling, outlets, distribution boards, equipment support, Humanscale NeatLink cable management, defender mini, channel rubber, defender cable crossover defender compact, line wiring, today's standard, wall jack, 30 meter telephone extension cable, 300 bathing suit sets, 300 shirts, motors, chilled water pump, water booster, transducer, cable, charger, network, alarm, security key box, password, extender pro, repeater pro, long range access point, Waveshare screens, black glass, cartons, organic eggs, safety lights, lights on loan, lights for an exhibition, 3 racks, 6 squares, fluorescent bulbs, electrodes, shunted sockets, screw-type base, thermal paper, adding machines, coating, zero ink system, heat, sun, friction, arm fetish, hand fetish, transport van, CB0209PH, books on events according to your date of birth, old astrology guides, prefaces, wires, metal fences and cages retired from circulation, brushed nickel 6-pack stainless steel, gold threads, interior doors, separators, hand rests, windbreakers, wine glasses, magnetic panties, happiness pills, unseizable property, turquoise shades, exterior emulsion, buckets, ice machine loan, oxygen concentrator, PVC belts, plastic wrap, two identical melamine boxes with locks, Christmas trees, the last 230 objects from a store (sold), various for birds, some big black leather couches, we women complete series, free admission,… aggregate and detach.
appendage emerges in the structural dissection of the institution as a public body. Currents of access, data, phone calls, water supply, temperature, electricity, architecture, geography, legal bond, membership, and support structures are scored anew as they are redistributed, diverted, or disrupted. In such an instance of structural glitch, appendage lifts institutional functions from their normative behaviors and replenishes them with transient affiliations and elective affinities.
appendage exposes how objects and their functions continue drifting inseparably from personal and collective attachments and gives body to the enmeshment between infrastructure and affective economies. It lays the transactional conditions that constitute the collective dimensions of intimacy bare and inflamed.
appendage will be accompanied by prefaces to appendage, a publication with contributions by Arnisa Zeqo, Iris Touliatou, Julie Peeters, Lisa Holzer, Tom Engels, and Quinn Latimer.
appendage will host a sound program with oral contributions by artists including Alison Knowles, Eduardo Costa, Eleni Poulou, Hannah Weiner, among others.
On June 24, in addition to the opening at Grazer Kunstverein, HALLE FÜR KUNST Steiermark (18:00) and <rotor> (20:00) will open their exhibitions. The opening speech at Grazer Kunstverein takes place at 19:00. After the openings, there will be a DJ set and drinks at Kombüse. A shuttle bus from Vienna will be provided:
15:00: Departure Opernringhof, Vienna to Graz
22:30: Departure Burgring 2 to Vienna
Registration at: lw@halle-fuer-kunst.at
Iris Touliatou (b. 1981, Athens) lives and works in Athens. Recent solo exhibitions include Organs, EXILE, Vienna (2020); and Overnight, Radio Athènes, Athens (2019). Touliatou has been part of the group exhibitions 2021 Triennial: Soft Water Hard Stone, New Museum, New York (2021–22); Work and Leisure, Milan (2022), When I state I am an anarchist, PLATO, Ostrava (2022); Anabasis, Rodeo Gallery, Athens (2022); Eclipse, the 7th Athens Biennale (2021); Lives of an Object, Andreas Melas and ARCH, Athens (2021); The Way In, Haus N Athen, Athens (2021); Anti Structure, DESTE Foundation, Athens (2021); Interval, Goethe-Institut Athen (2021); The Same River Twice, Benaki Museum, Athens (2019); and Manifesta 12, 5x5x5: Selected Projects, Palermo (2018), among others. In 2022 Touliatou will participate in SIREN (some poetics) at Amant Foundation, New York. appendage is her first institutional presentation in Austria.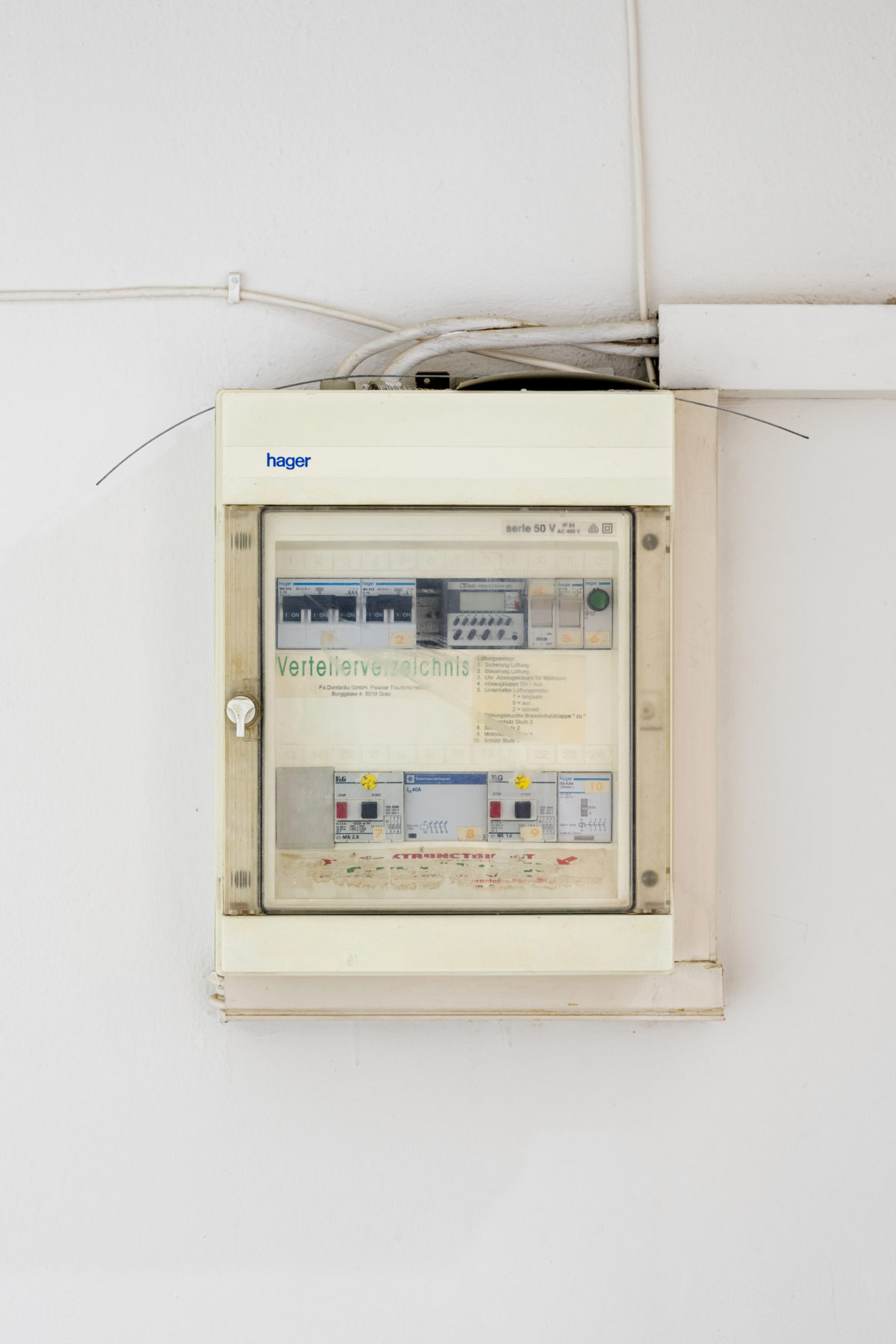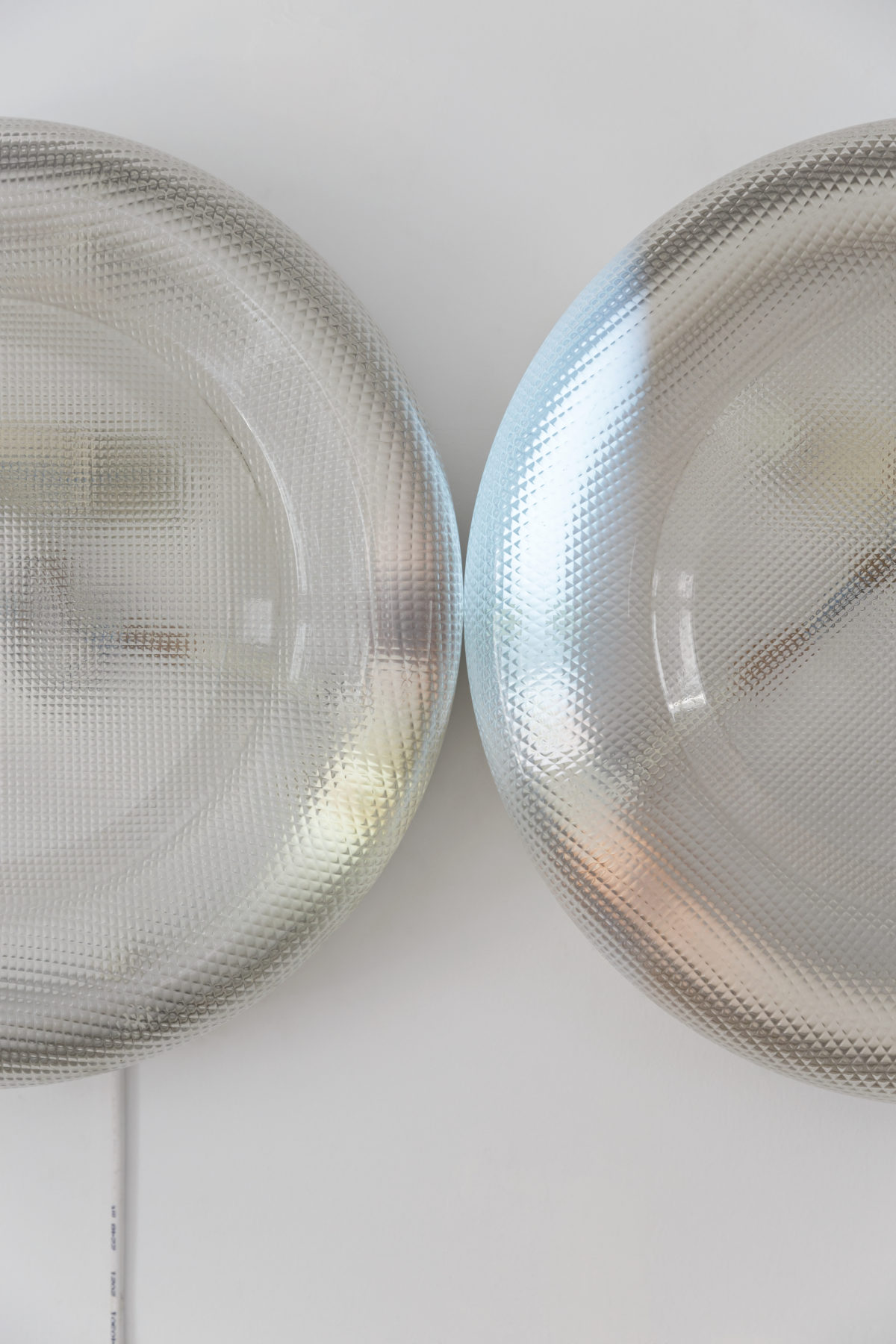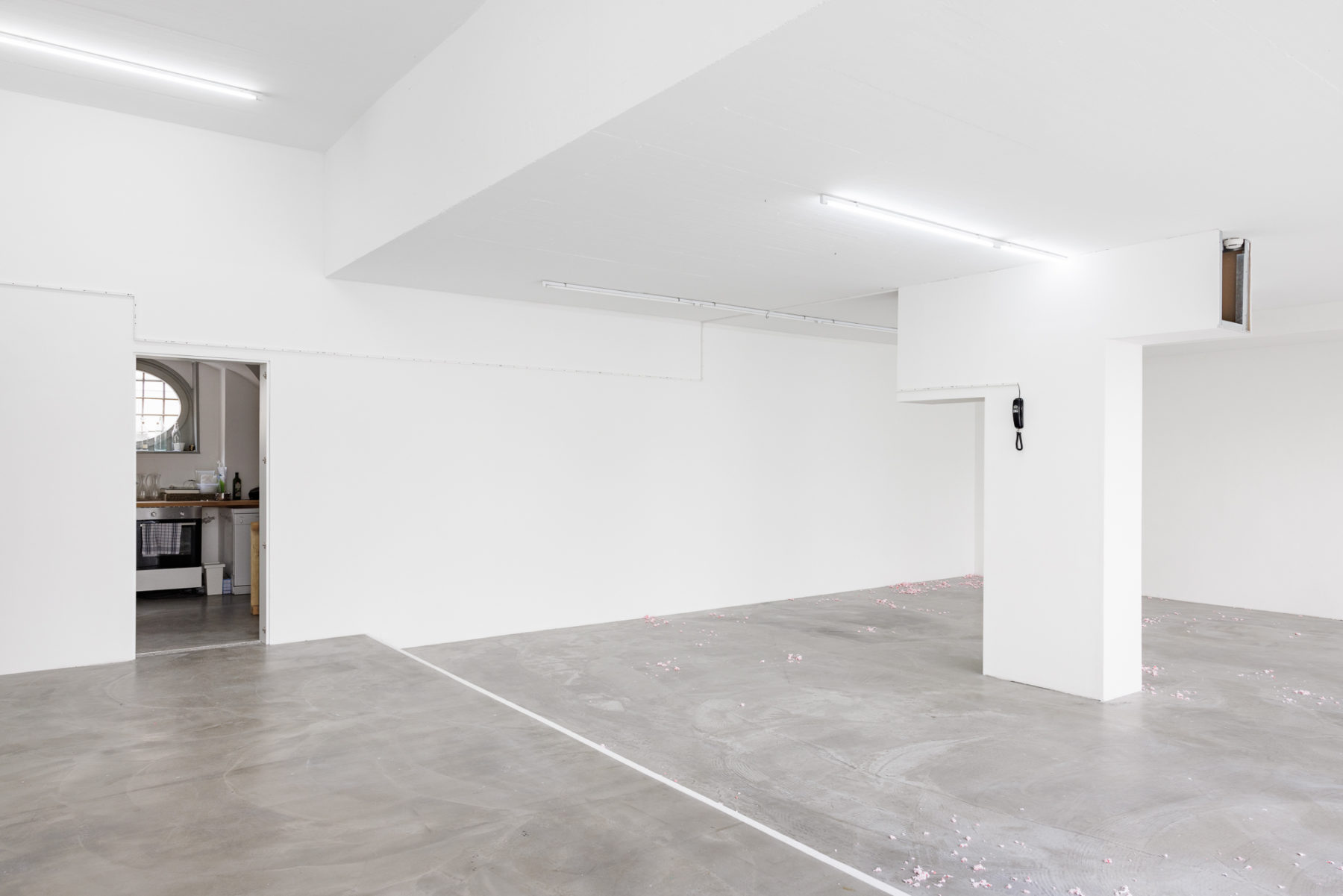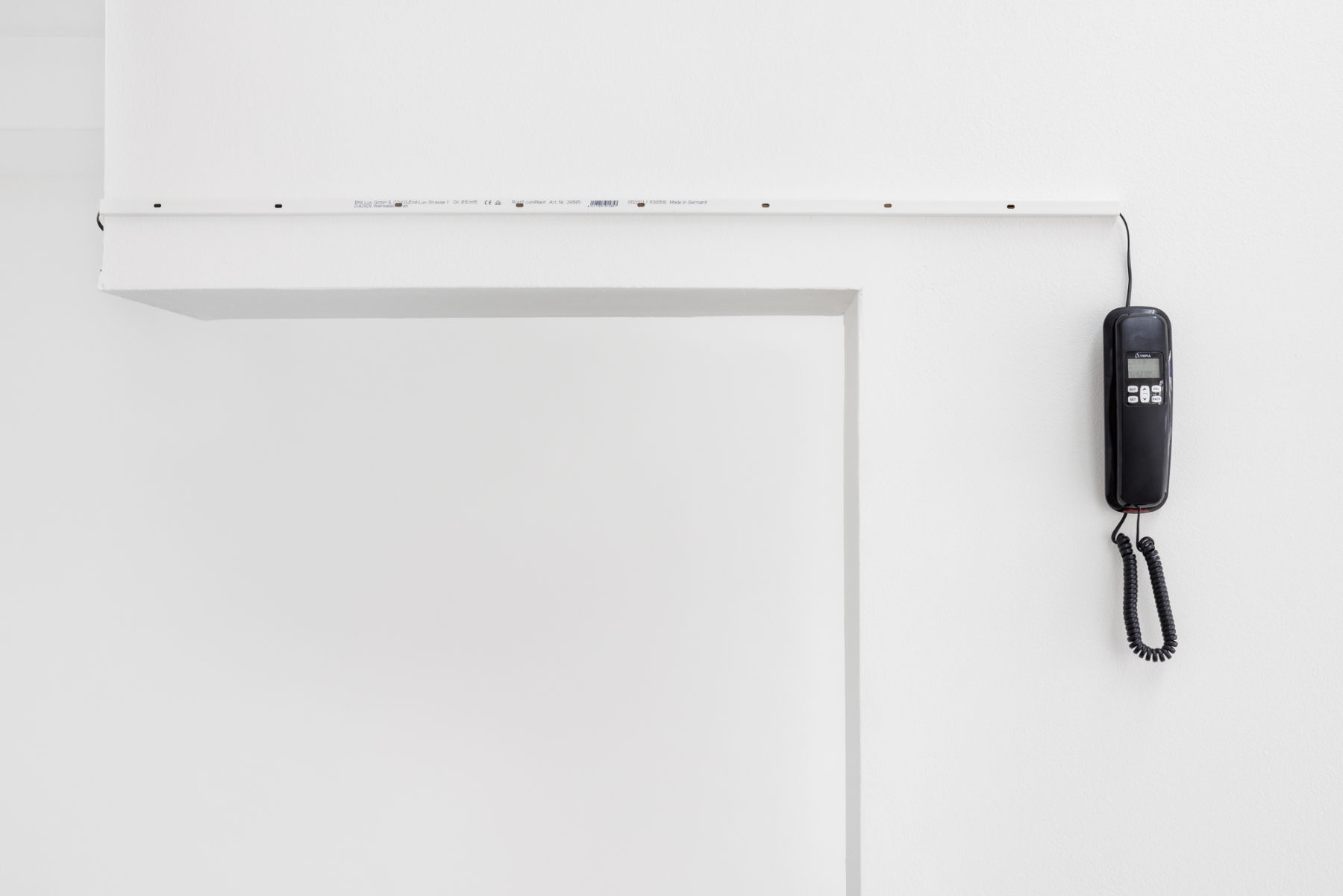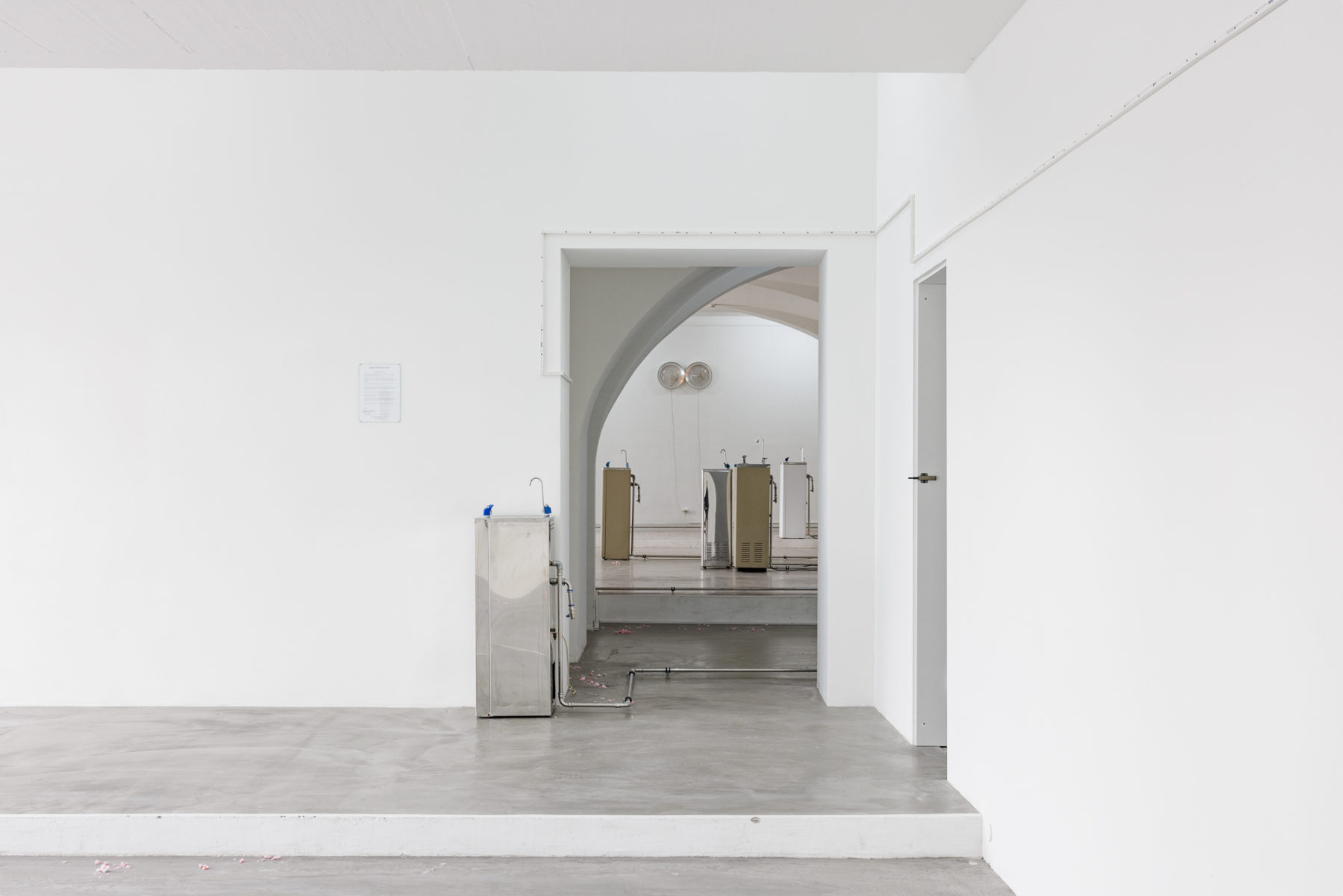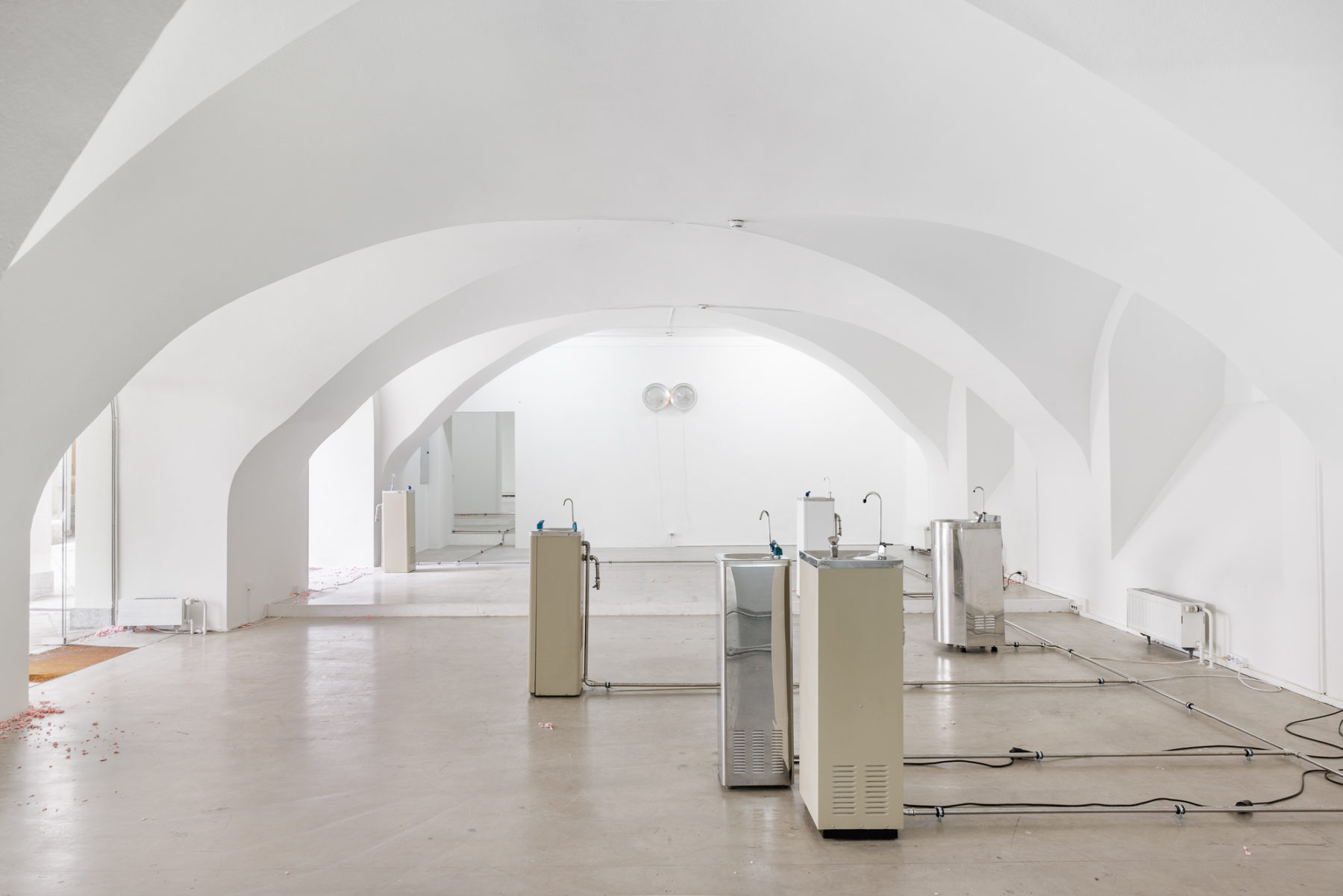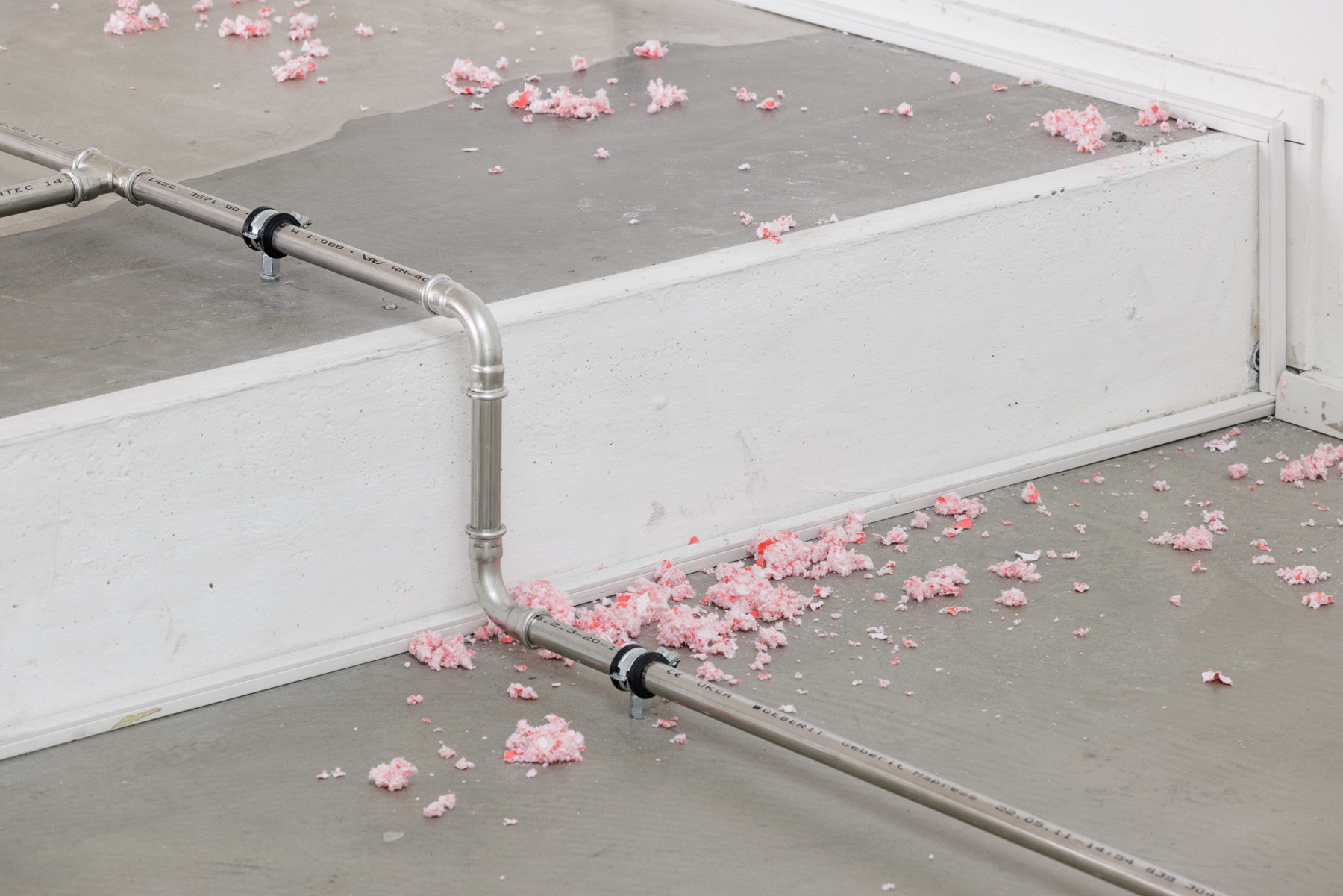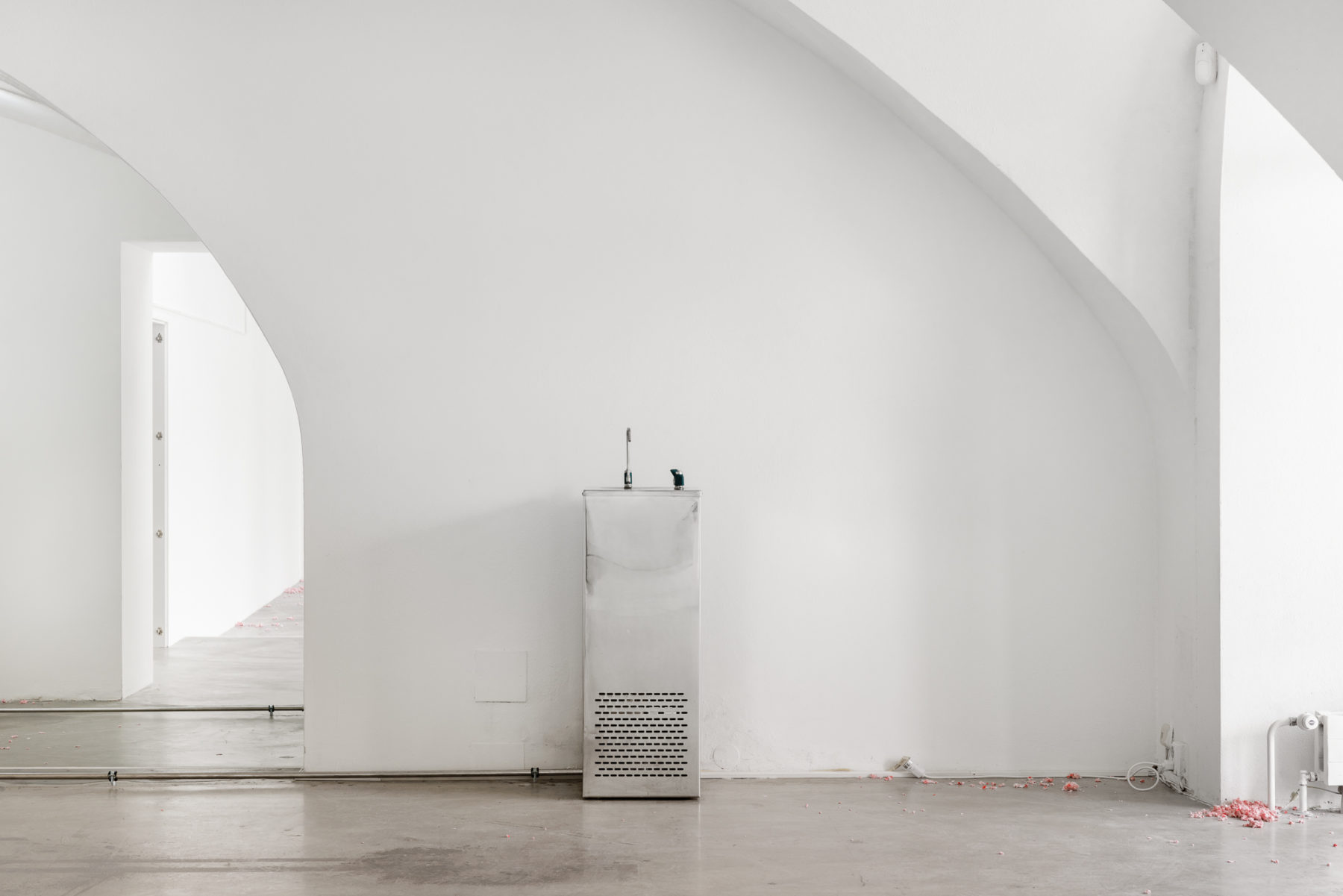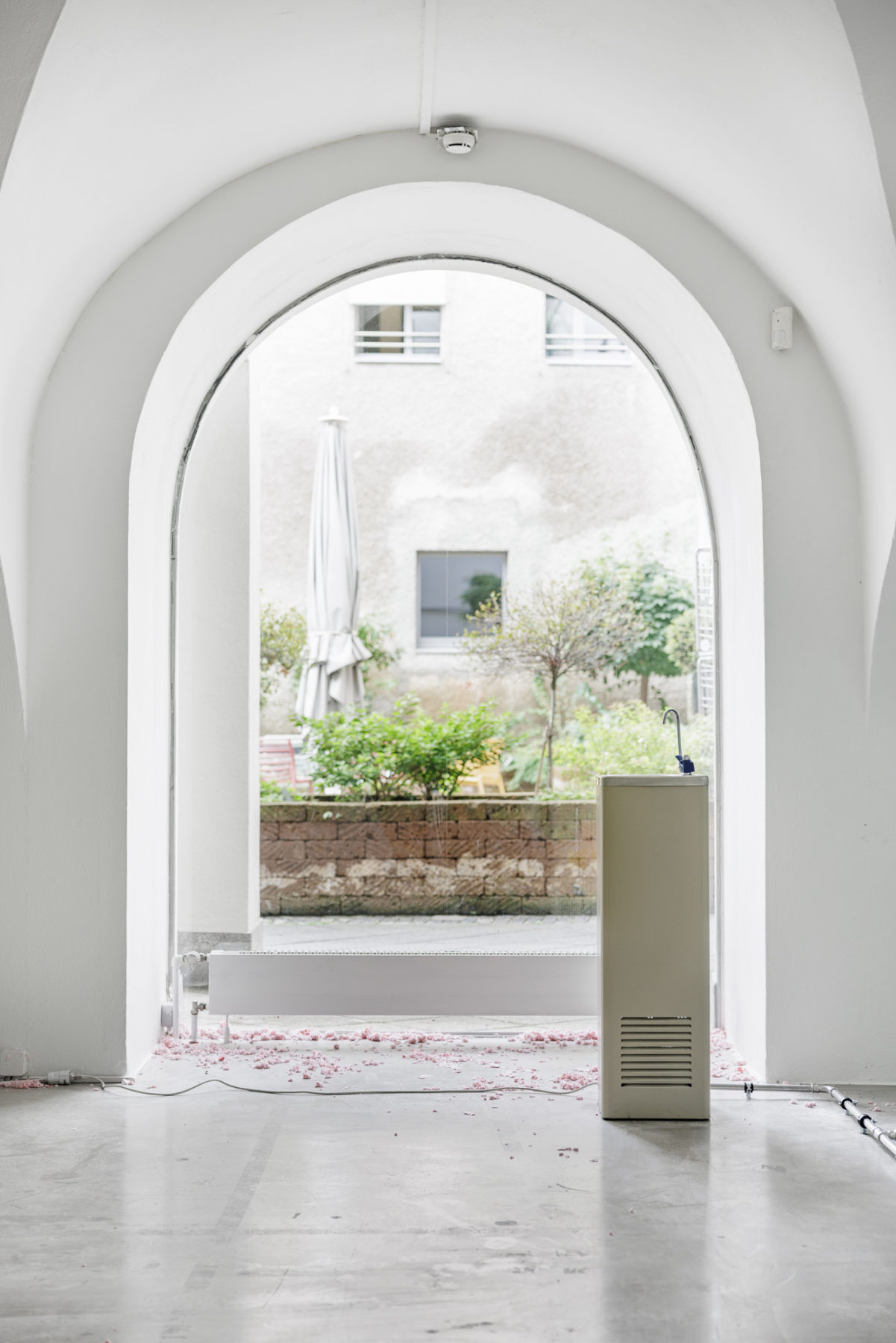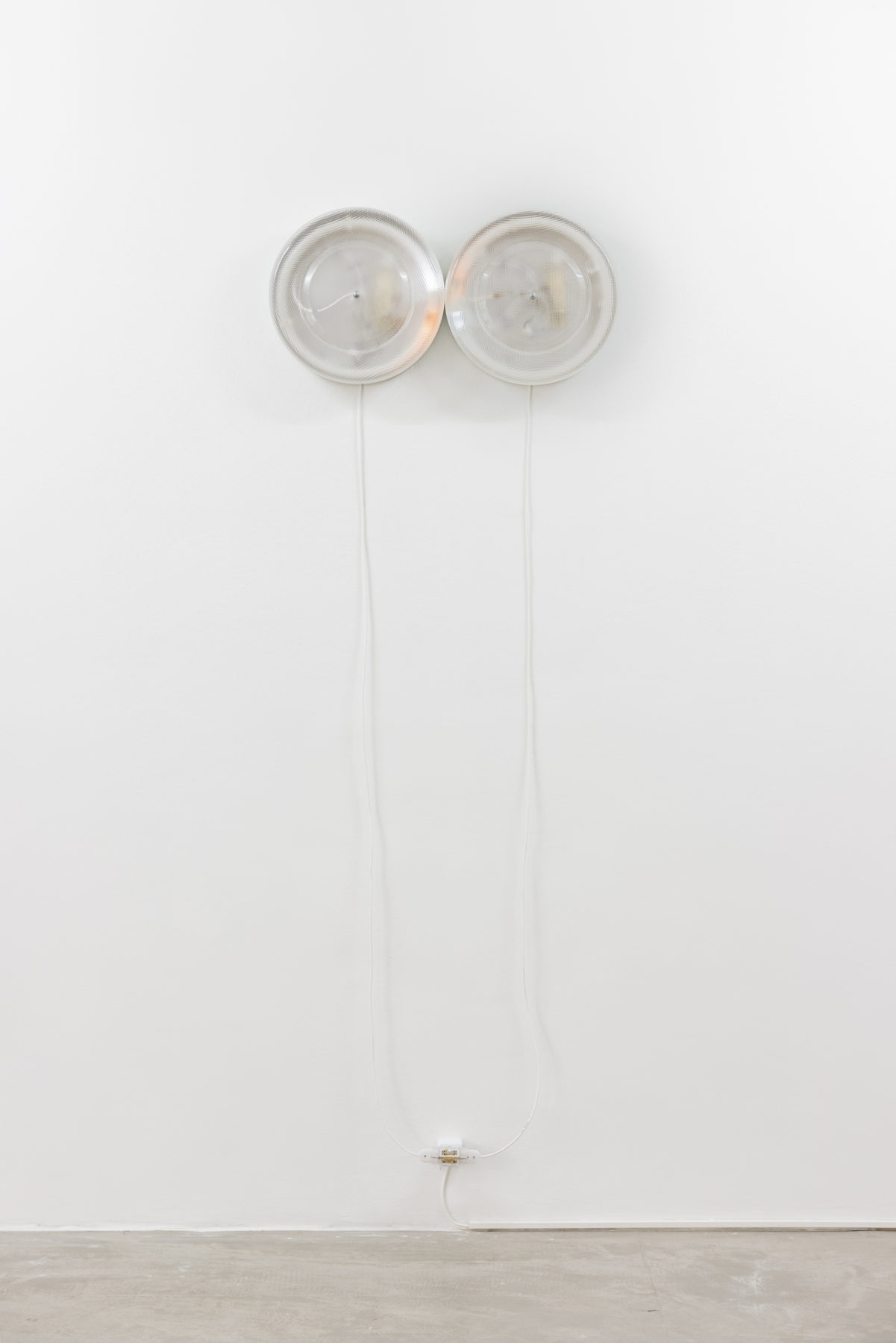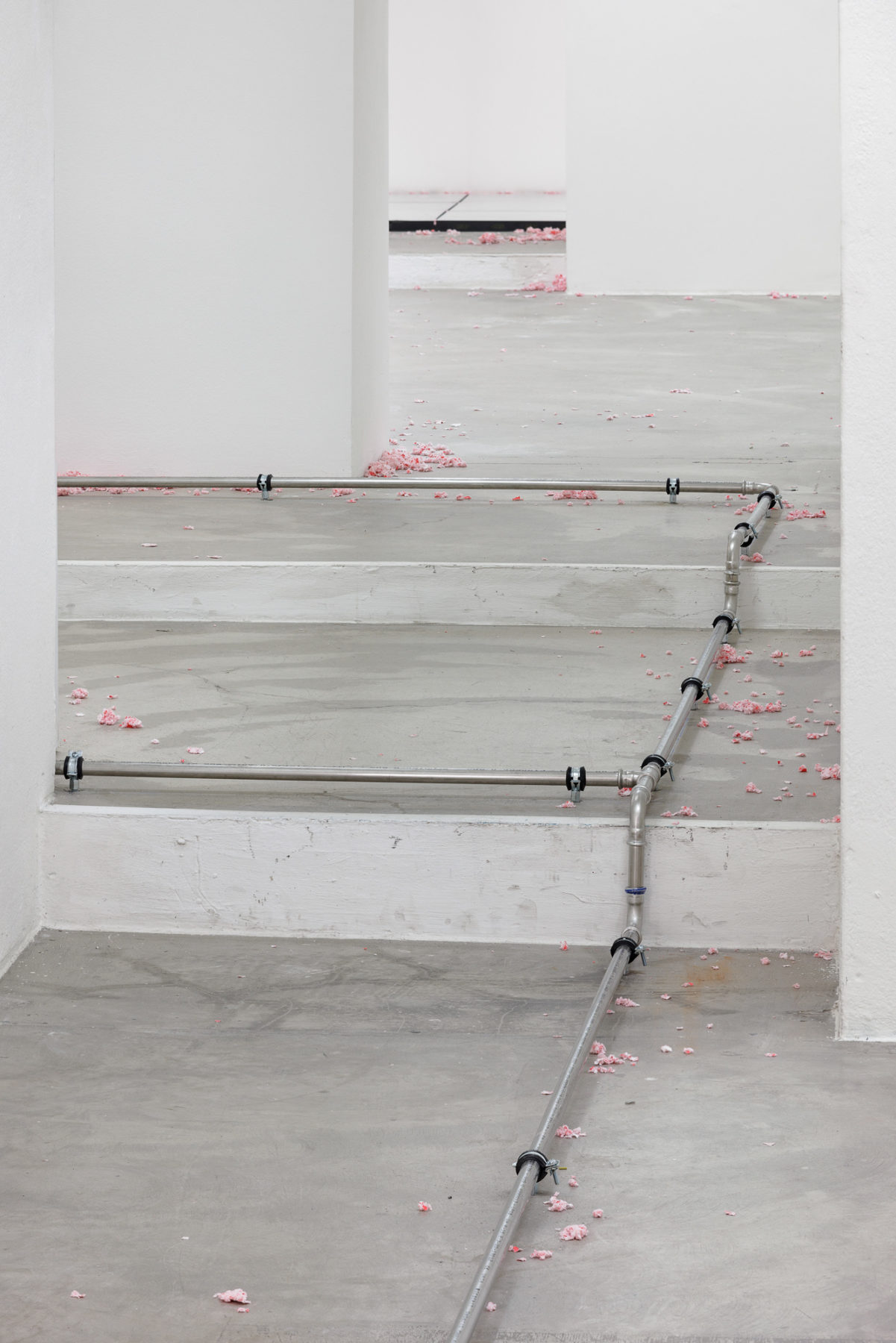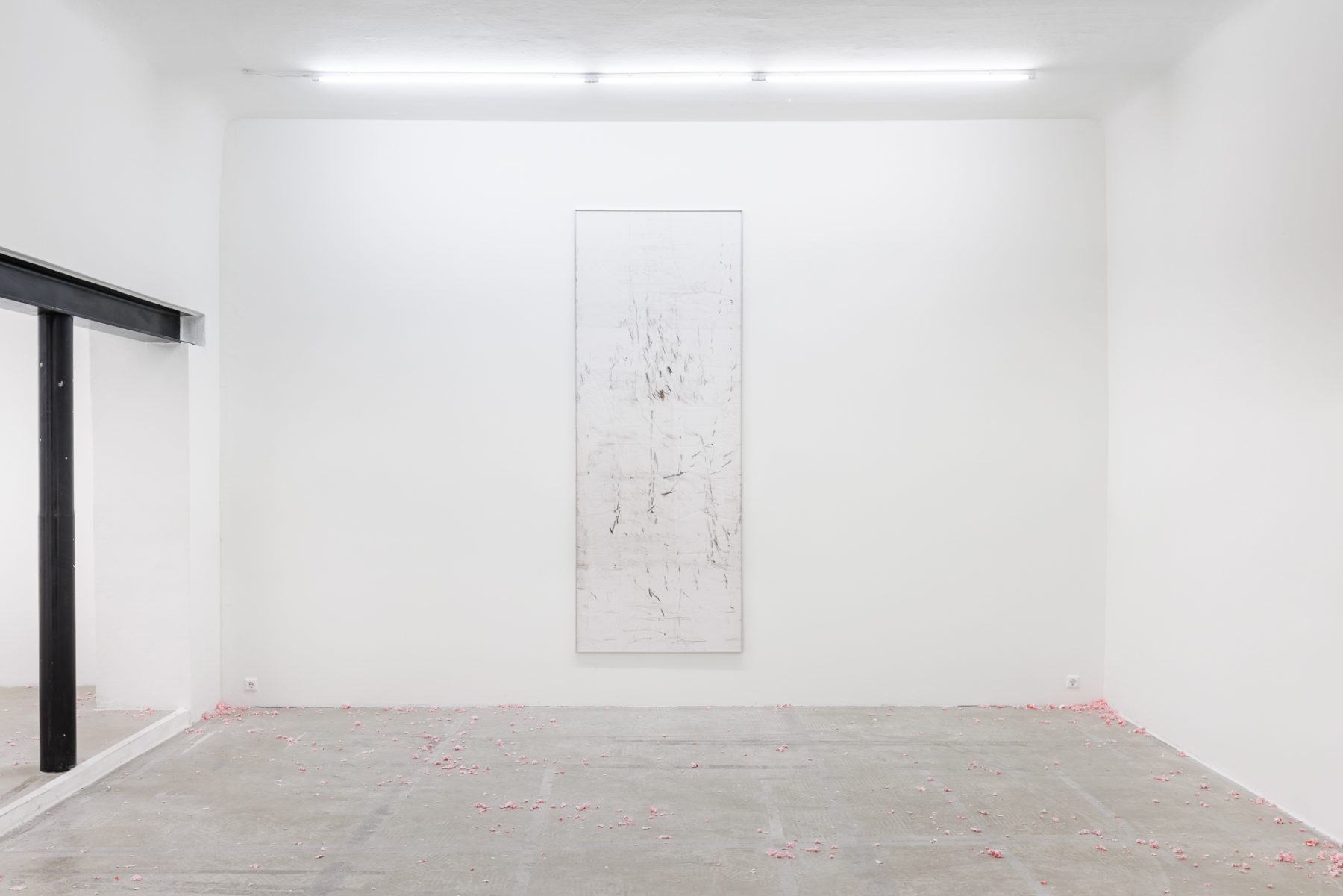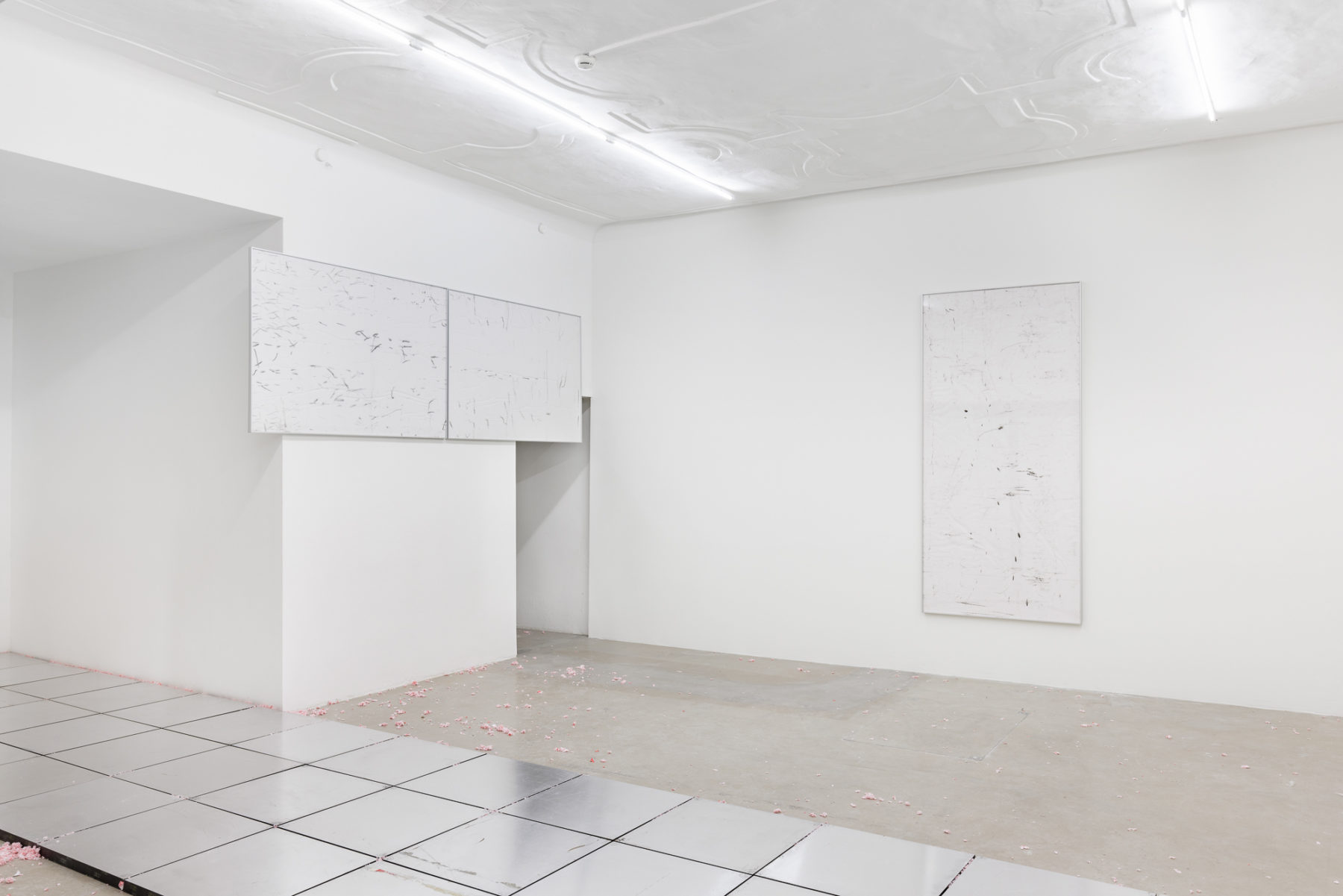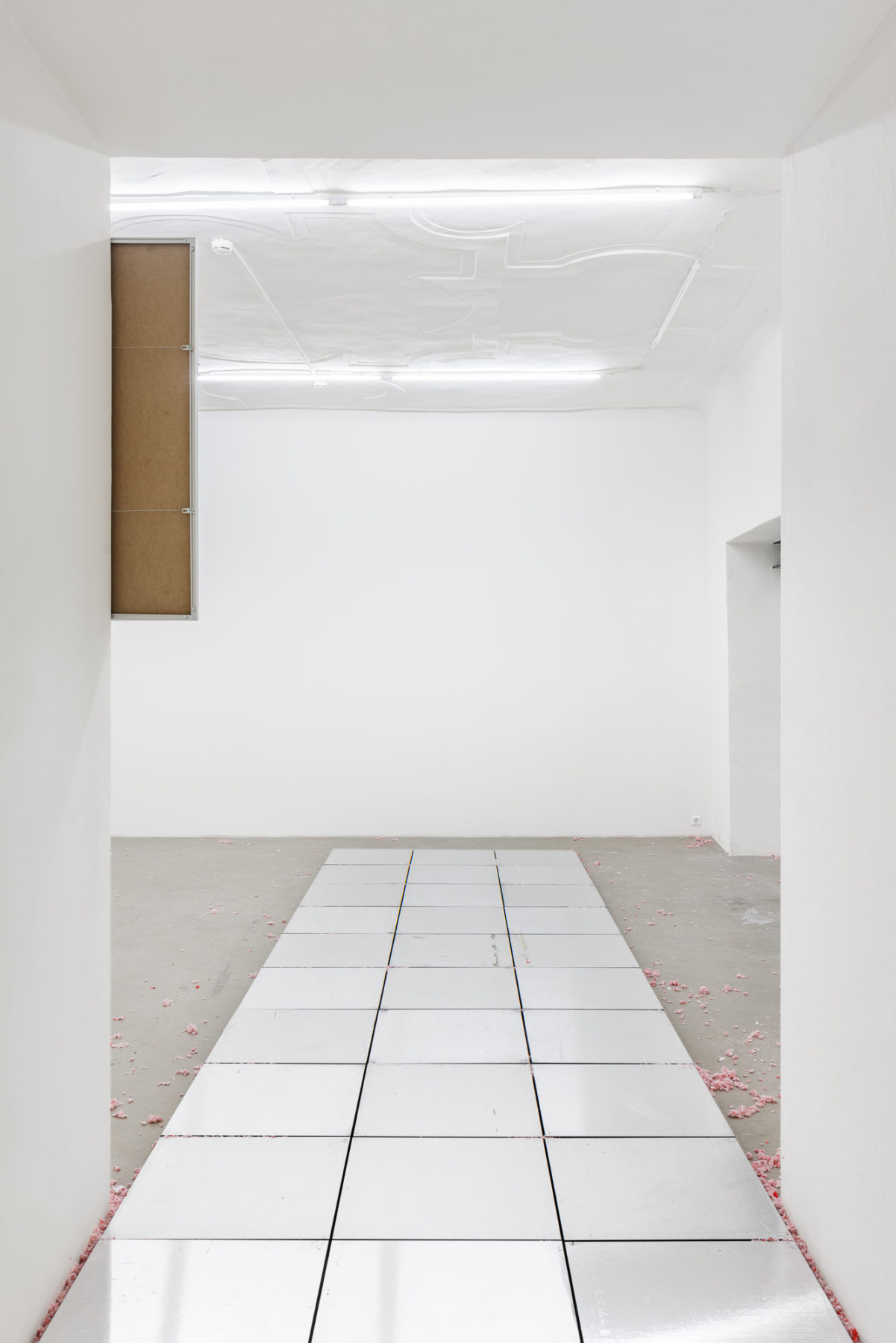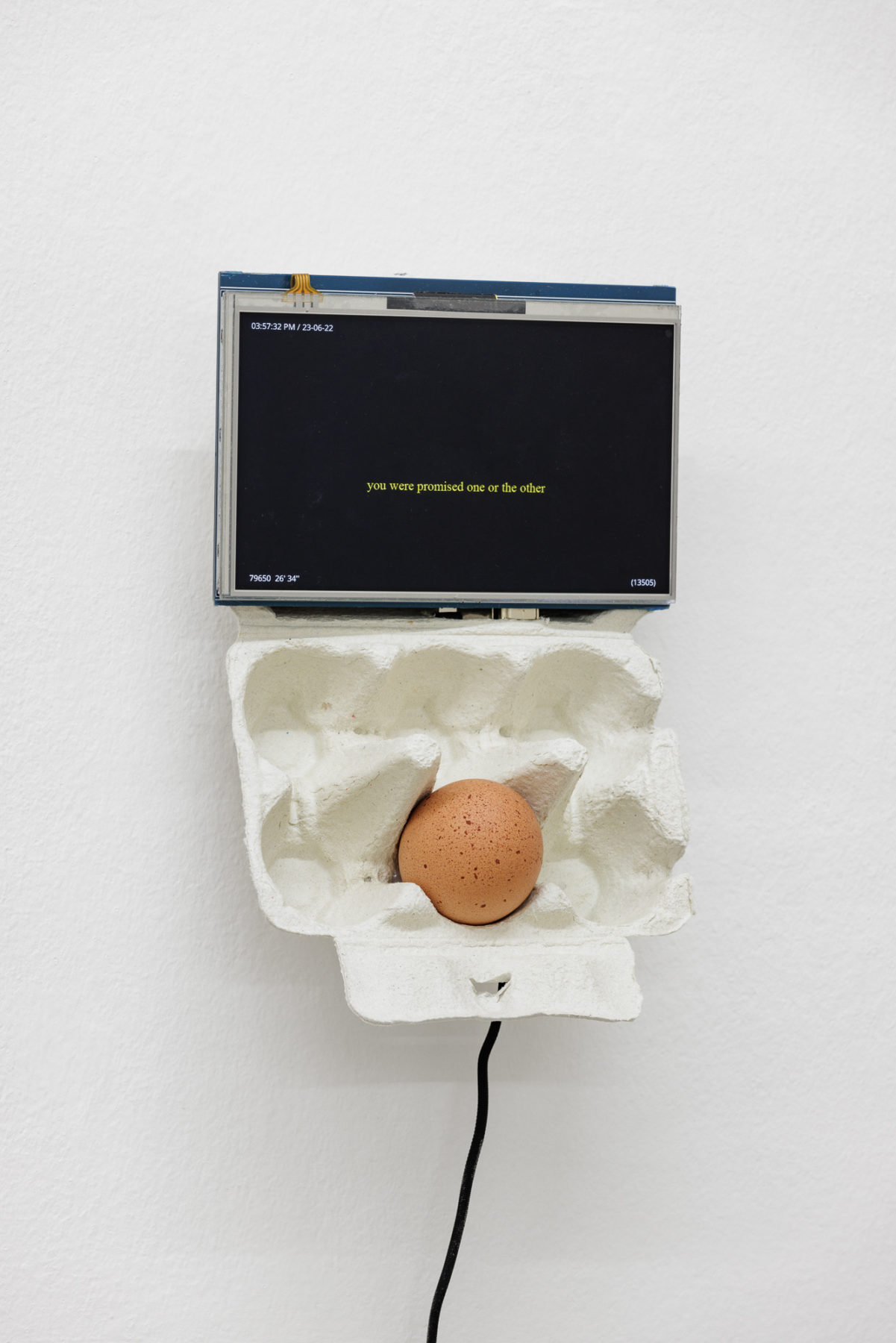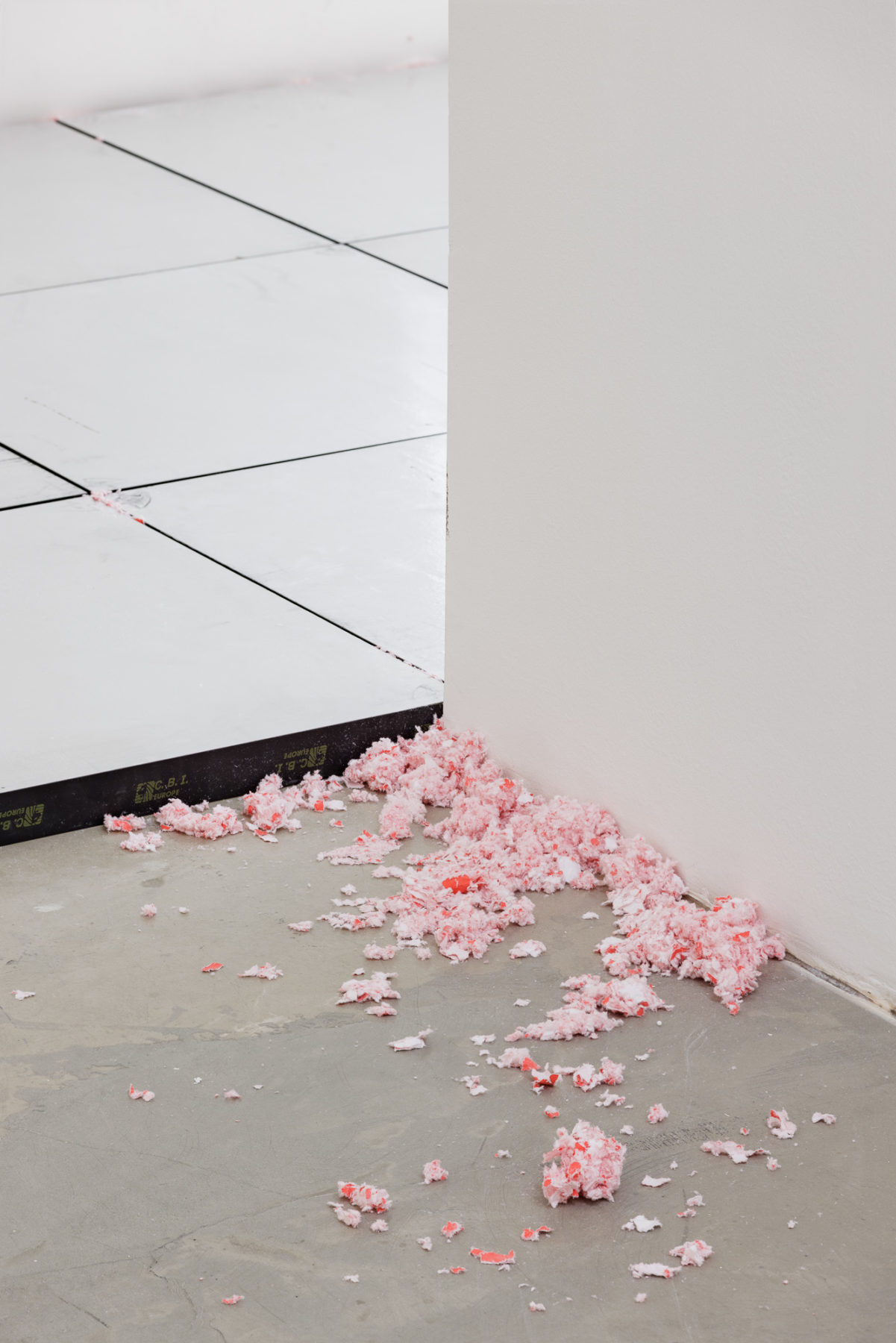 "We are honed to tolerate boring work. The hundred letter words emerging like alphabet soup, like faces in a funhouse mirror, feeling more and more distorted in my body. Everything around, appearing quite tiny, as if seen through a keyhole. We sat rigid, except for the parts of our bodies that were needed for production. We sat in this way, pointed to reassemble people. Lights flickering across our eyes. And propped up in attitudes, counterfeiting life," a female voice rhythmically recites in Sandra Lahire's Terminals (1986).
we sat rigid except for the parts of our bodies that were needed for production is an exhibition that convenes the work of the late British experimental filmmaker Sandra Lahire and the Italian artist and designer Celeste Burlina. Coming from two distinct eras of feminist practice, their piercing meditations on the porosity of the body, labor, and environmental trouble enter into joint fabulation.
we sat rigid… is host to six films by Lahire, of which five are newly digitized. Her galvanizing handling of the celluloid moving image addresses the ways in which capital and patriarchy mold and deplete vital faculties of the body, the earth, and ultimately the moving image itself. Her first two films, Arrows (1984) and Edge (1986), are firmly rooted in her persistent struggle with anorexia and the idealization of the female body. Together, they render a confronting account of the cultural causes of her drive towards thinness while she simultaneously seizes control over the production of her own image. Terminals (1986) broadens these autobiographical reflections and introduces another cycle of works—Plutonium Blonde (1987), Uranium Hex (1987), and Serpent River (1989)—, which probes into radiation, the mining of uranium, and the social and environmental destruction that comes with it. Against the backdrop of a looming nuclear war and the disintegration of miners' communities in the United Kingdom and elsewhere in the 1980s, she examines this atomic reality in a fractured, sensitizing fashion. Approximately 35 years later, her concerns gain traction again and put the urgent need for the political recognition of corporeal vulnerability to the fore once more.
Celeste Burlina responds by way of an architectural intervention, carrier (2022), which echoes Lahire's cinematic exploration of mining, industrial production, and female labor. Attentive to the ways infrastructure enables or obstructs the gathering of bodies and their circulation, Burlina's proposition cuts through the three galleries of the Kunstverein. Starting off as a deceptive proposition reminiscent of minimalist sculpture, the work transforms and develops in function and meaning as it carries along. Oscillating between the functional and ornamental, carrier both serves as a support structure for Lahire's moving image and interrogates the body of the Kunstverein as such. Burlina, who is trained as a structural engineer, rewires the function and purposefulness of raw, technical materials—H-beams, chains, rods, bits, and methyl methacrylate sheets—and thwarts her longstanding relationship with such supplies often associated with brute, subjugating forces. As Lahire's films are brimming with these elements as well, Burlina performs a dialogical act and seeks to undo the rigidity these materials propose while insisting on their potential for powerful transformation.
What is called into being is a sensuous dialogue beyond the limitations of linear time—a resonant space sustained by two voices in fervent inclination.
On the occasion of the exhibition, Grazer Kunstverein will publish we sat rigid…, the first in a series of small volumes of correspondence, responses, and conversations. It includes contributions by Celeste Burlina, Tom Engels, Laura Guy, Calla Henkel, Charlotte Procter, Kerstin Schroedinger, and Miriam Stoney.
The exhibition is developed with the support of LUX, London.
Sandra Lahire (1950-2001, United Kingdom) was a feminist experimental filmmaker. Her artistic legacy includes ten 16 mm films in which she explores the body's vulnerability. Lahire's oeuvre investigates the representation of the (female) body and how it comes to bear traces of socio-political and ecological collapse. Lahire was a central member of London's experimental filmmaking community in the 1980s and 1990s and was involved with the London Film-Makers' Co-op and the London-based feminist film and video distributors Circles and Cinenova. Her essay "Lesbians in Media Education" was published in Visibly Female in 1987. In 1993, she composed a musical score for Just About Now by the British artist and filmmaker Lis Rhodes. Lahire studied Philosophy at the University of Newcastle upon Tyne, Fine Art Film at St Martins School of Art, and Film & Environmental Media at the Royal College of Art in London. She passed away after an enduring struggle with anorexia.
Celeste Burlina (b. 1988, Italy; lives in Berlin) works as an artist, designer, and writer. Her exhibition designs and scenographies articulate the relationship between people and infrastructure and focus on the dramaturgy of attention and attending. She developed made-to-measure installations and spatial interventions for "trust & confusion" at Tai Kwun Contemporary, Hong Kong (2021), "30 Years of KW: Anniversary Weekend" (2021) at KW Institute for Contemporary Art, Berlin (2021), Creamcake's 3hd Festival "Power Play" at Park Center Treptow, Berlin (2021), and "im garten der blicke" at Kunsthaus NRW Kornelimünster, Aachen (2020). Previously, Burlina worked for the design and architecture studio Sub, with whom she completed projects for exhibitions by Anne Imhof at Castello di Rivoli (Turin), Tate Modern (London), and Palais de Tokyo (Paris), as well as for Schinkel Pavillon (Berlin) and Balenciaga. Burlina is a Doctor of Engineering.