(Concert)
Excuse My Dust
Han-Gyeol Lie
25/03/2023
Excuse My Dust is a music program selected and performed by the pianist Han-Gyeol Lie. Responding to sekretas, Marija Olšauskaitė's exhibition, Lie's program meanders from French Baroque to late 20th-century composition, ranging from Jean-Philippe Rameau to Gérard Pesson. The pieces are gathered based on resemblances and affinities in tonality rather than geographical or temporal criteria and are organized according to the key in which they are performed. Throughout, slight shifts in key occur as the concert progresses. Related but different keys hide within each other, parallel tonalities rub against counter-parallels, holding the pieces together in amicable accord. The program will be performed on an untuned Grotrian-Steinweg grand piano built in 1927.
Gérard Pesson, Excuse my Dust, 1999-2008
Ludwig van Beethoven, Bagatelle in C major op. 33.5, 1803-1804
Frédéric Chopin, Prélude in C major op. 28.1, Prélude in a minor op. 28.2, 1836-1839
Jean Philippe Rameau, Allemande, from Suite in a minor, 1727
Johann Sebastian Bach, Prélude, from English Suite No.1 in A major, 1715
Franz Schubert, II. Andantino in fis moll from Sonata in A-dur D 959, 1828
Ryūichi Sakamoto, Germination, 1983
Elena Narbutaitė, blue diamond, 2019
John Cage, Dream, 1948
Gérard Pesson, La Lumière n'a pas de bras pour nous porter, 1994/1995
With the support of Klavierhaus Streif, Graz.
Han-Gyeol Lie (b. 1982, Germany) is a pianist living in Vienna. Her repertoire focuses on the French Baroque and the late piano works of Franz Schubert and Frédéric Chopin. With philosopher Gabriele Geml, she is the founder and director of .akut – Verein für Ästhetik und angewandte Kulturtheorie (Association for Aesthetics and Applied Cultural Theory). She curated concerts for the Austrian Film Museum, the Picture Gallery of the Academy of Fine Arts Vienna, Wien Modern, Tanzquatier Wien, and the Vienna Folk Song Society. As a visiting lecturer, she lectures on music and art at the Lithuanian Academy of Music and Theatre in Vilnius and the Sandberg Institute – Department of Fine Arts in Amsterdam, influenced by the aesthethic theories of Theodor W. Adorno. Currently, she works closely with dancer and choreographer Alix Eynaudi and sound artist Paul Kotal in various constellations.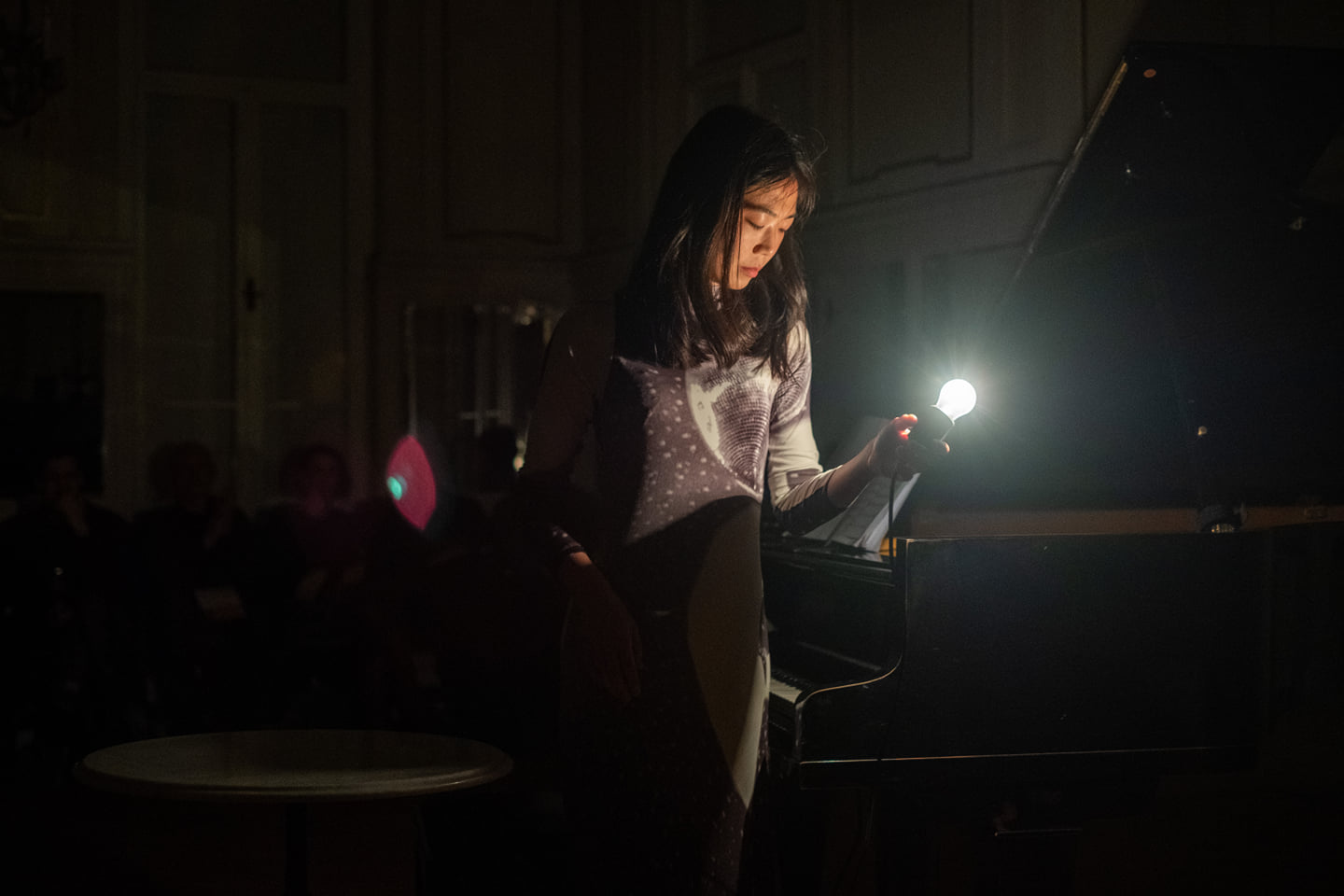 01